Argentina's energy challenges according to The Economist: Flogging a dead cow
Friday, August 2nd 2013 - 03:01 UTC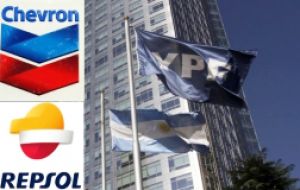 The Economist in its latest printed edition addresses Argentina's challenges in the energy field including the seizure of a majority stake in YPF from Spain's Repsol and the latest agreement with US oil company Chevron to exploit shale oil and gas.
Little more than a year ago President Cristina Fernández de Kirchner announced the nationalization of YPF, an oil company owned by Spain's Repsol.
Ms Fernández called it a victory for "energy sovereignty", claiming that Repsol had plundered its Argentine holding for quick profits without investing in exploration or development. But on July 16th, after a year in which YPF oil and gas production continued to disappoint, the government announced that it had agreed on a big joint venture between YPF and a different foreign oil giant, Chevron.
Argentina's energy industry is in a sad state. In 2011 the country became a net importer of energy for the first time since 1984, further eroding its foreign-currency reserves, now at their lowest in six years. Nationalization has not helped: in the first quarter of this year YPF output of crude oil fell by 0.7% and of natural gas by 3.7%. April saw a fire at a refinery. Energy imports are expected to reach 14 billion dollars this year, up from 9.2 billion in 2012.
The great hope is vast shale-oil and gas reserves in Neuquén province, which Repsol discovered shortly before the government expropriated YPF. The Vaca Muerta ("Dead Cow") field is estimated to hold 16 billion barrels of shale oil and 308 trillion cubic feet (8.7 trillion cubic meters) of shale gas, which would give Argentina the world's fourth-largest reserves of shale oil and second-largest of shale gas.
Extracting the deeply buried spoils is complicated, costly work. Jorge Ferioli of the World Energy Council, an industry research group, estimates that developing Vaca Muerta will require 68 billion to 89 billion dollars. YPF lacks such funds, and Argentina's borrowing costs in effect bar it from seeking international financing.
As well as bringing expertise, Chevron has promised an initial investment of 1.24 billion dollars in Vaca Muerta as part of its joint venture with YPF. The deal was announced after Ms Fernández issued a decree seemingly tailor-made for Chevron, which states that energy companies that invest over 1 billion will, after five years, be allowed to sell 20% of their production abroad without paying export taxes or being forced to repatriate profits.
Opposition parties, which backed the expropriation, have labeled the Chevron deal a "re-privatization" and challenged the legality of the decree. They will make the most of the controversy in the run-up to congressional elections due in October. "A year ago the government considered energy sovereignty to mean 'Spanish, get out', whereas now it seems to mean 'Yankees, come in'," says Daniel Montamat, a former energy secretary and former head of YPF (under opposition governments).
YPF faces obstacles to attracting more collaborators. For one thing there is runaway inflation and a distorted exchange rate. More pressing is the government's unfinished business with Repsol. Argentina has yet to compensate the company a peso for the 10.5 billion dollars it claims it is owed. Last year, anticipating its deal with YPF, Repsol sued Chevron in Spain and the United States; on July 24th it sought an injunction to halt the deal. Keeping the lights on in Argentina is not getting any easier…