Brazil supports IMF aid to Greece and summons delegate back home to explain
Friday, August 2nd 2013 - 03:55 UTC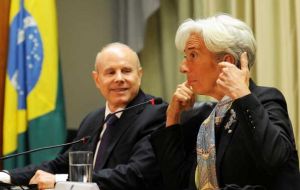 Brazil on Thursday expressed support for the IMF latest aid package for Greece, disavowing its IMF delegate who abstained in a vote on the issue. Finance Minister Guido Mantega spoke with IMF chief Christine Lagarde and backed the Fund's decision to release 1.7 billion Euros in rescue loans to ailing Greece Monday, his spokesman said.
Likewise Mantega called Brazil's IMF representative Paulo Nogueira to summon him back home for an explanation of his abstention in Monday's vote.
Speaking in a personal capacity on Wednesday, Nogueira who holds a rotating post that also represents ten small countries in Latin America, the Caribbean, Asia and Africa, subsequently said: "Recent developments in Greece confirm some of our worst fears".
Nogeuira spoke of growing frustration among emerging countries with the IMF policy of bailing out indebted European countries, according to Brazilian press reports.
But Mantega said Nogueira "erred" by abstaining in the vote, adding that the official "neither consulted with nor received permission from the government."
The IMF Monday approved the 1.7-billion Euro payment to Greece after the fourth review of the struggling Euro zone country's performance under the international bailout program.
The latest loan disbursement means Greece has received around 8.24 billion Euros from the IMF under the bailout coordinated with the European Union and the European Central Bank in March 2012.
Greece was first bailed out for 110 billion Euros in 2010 but when that failed, got a second rescue worth 130 billion Euros plus a private sector debt write-off totaling more than 100 billion Euros.
In exchange, Athens has had to implement Draconian austerity measures, including drastic cuts to pensions and civil service payrolls while the economy has remained stuck in recession for six years.