EU FTA agreements with Colombia and Central America became effective August first
Saturday, August 3rd 2013 - 01:41 UTC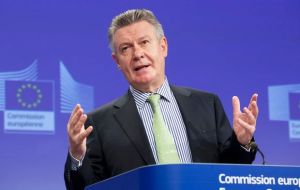 Free trade agreements, FTA, signed by the European Union with Colombia, and with Central American countries Honduras, Nicaragua and Panama became effective August first as part of the EU strategy to eliminate tariffs on trade with Central American and the Andean region.
The agreement with Colombia was negotiated and signed at the same time as with another Andean country, Peru. However with Peru it became effective last March because Lima was faster in the documentary paperwork and Brussels did not want to delay the event, Bogotá had also asked for more time.
EU Trade Commissioner Karel De Gucht said the agreements "open a new chapter in EU relations with Colombia, and those make effective with Central American countries are evidence of the interest and commitment of the EU with that region".
Colombian ambassador in Brussels, Rodrigo Rivera said that the free trade agreement "reveals an unprecedented level in bilateral relations which can be described as mature, diversified and balanced". However Rivera also underlined that the agreement is 'a necessary condition but not sufficient for trade and investment to begin flowing' because "we need promotion and a strong participation from the private sector".
The EU estimates that the agreement will save exporters from both sides an estimated 500 million Euros annually, only in tariffs.
The bulk of Colombia and Peru exports to the EU are commodities such as farm produce (38%), fuel and minerals (54%), while EU ships to the Andean region manufactured goods, particularly machinery and transport equipment (50%) and chemical goods (19%).
As to the agreement with the EU and Central America and effective August first, originally it included Guatemala, El Salvador and Costa Rica, besides Honduras, Nicaragua and Panama, but the three first "still have not completed procedures" and are expected to do so in coming weeks.
According to EU sources the agreement on the long term could represent a GDP impact for the six Central American countries ranging from 0.5% for Nicaragua to 3.5% for Costa Rica. The area exports mainly agriculture and fishing produce (coffee, pineapples, sugar and shrimps) but also microchips, sanitary and optical precision instruments. The EU sends mostly manufactured goods, pharmaceuticals, cars and heavy road and transport equipment.