Falklands: controversy with the private sector over oil and port policy
Saturday, August 3rd 2013 - 02:30 UTC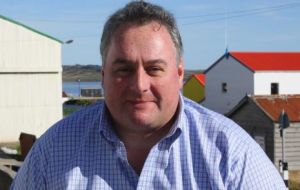 A Falkland Islands government statement of policy principles on port location and oil infrastructure development passed at Executive Council last week has been met with opposing views from members of the private sector, reports the Penguin News.
The statement, which confirms that any permanent port development will be at Port William and later adds, "any grant of concession/ licence at Mare Harbour or Stanley Harbour or any other location will be for a maximum period of three years, after which it will be removed regardless of whether or not alternative port facilities exists," has been described as, "short-sighted," and, "confusing," by some and alternatively, "helpful," by others.
One member of the business community who wished to remain anonymous said he had an issue with the entire process for the location of the new port: "The decision to have it in Port William was taken with absolutely no concrete survey data, just anecdotal evidence from numerous sources, many of which are contradictory."
The businessman also said his concern with the policy principles was that it was a fundamental piece of policy for the entire future of the Falklands, "and it has been made without any real consultation with the public, without any real consultation with the local private sector and, it would appear, without any real understanding of what is required by the oil industry."
He said he believed the decision to allow any temporary port to only be in place for three years and then to be removed irrespective of whether the new port is ready, "is absolutely absurd, it shows a basic lack of understanding of what is required and what the local private sector is proposing to carry out for the oil industry. It effectively stops any development in its tracks for the foreseeable future."
He commented that the Falkland Islands Government (FIG) had refused to engage in discussions with any local company or consortium over proposals for a temporary facility, preferring instead to engage in a, 'Mexican stand off' with the oil industry in an attempt to make them pay for a new port in Port William, a location which still has no complete survey data and no real estimate of costs.
"We have been saying for years that the Falklands is open for business and we want investment by the oil industry here and when we finally get some concrete progress we make a complete arse of the whole thing" he concluded.
Speaking for the Falkland Islands Company, Director and General Manager Roger Spink took an opposing view. He feels the statement gave some, "clarity as regards any developments something that has been lacking before."
Spink commented that FIG had also indicated they wished for the private sector to work together to provide any long term facility, that is, they would prefer it was not FIG led, something the Chamber of Commerce had been pushing for.
Mr Spink said: "I understood from various oil reps that this was the kind of guidance they have been asking for and a statement of this kind was welcomed.
"I do not think it is any surprise of them". He added: "It certainly is helpful in clarifying our (FIC) plans for the future and gives clear transparent time scales to everyone for any temporary solutions. I would think it was also helpful for any other businesses looking for long term involvement or investment in or near the port, that is, they all know the ground rules."
Speaking on behalf of the Chamber of Commerce Hamish Wylie said the organisation "encourages FIG to address any policy issues which may affect private sector investment decisions. "
However, he said the statement did raise concerns about the impact such short concessions would have on the practicality of developing Sealion (Premier Oil's oilfield project).
He explained: "It does not make clear whether this statement applies to the temporary port structure alone, or any investment that a company may make in providing support to some of the companies operating from the temporary port. Our members may invest in support of the temporary port, with a view to an alternative use after the temporary by port is closed. There will be many non-port related businesses spring up that will benefit from the facilities that the temporary port will leave behind."
Mr Wylie said with FIG land prices at £56,000 per acre, and the cost of developing such land running into hundreds of thousands of pounds per acre before you have even built anything on the land, "you can see why local business will require some more clarity to this statement."
He said it was understood that the development of Sealion would be, "a 24/7 operation, and the indication that there may be some restriction on 'acceptable operational hours' at the temporary port would appear short sighted."
It is the development of Sealion, that will give us the ability to build a new port in Port William so as to minimise the impact in the long term, said Mr Wylie.
He concluded that the Chamber particularly welcomed the Hydrocarbon Development Policy Statement and they would seek to ensure that in putting the port statement into practice "FIG apply the principles contained in the Hydrocarbons Development Policy, and policy 5 (*) in particular."
MLA Ian Hansen said that a response from Gilbert House will be provided for Penguin News next week. (PN).-
(*) Policy 5 – 'Development of the hydrocarbons industry must take into consideration existing commercial activity and promote the development of local business capacity'.