Santos describes Colombian economy as the 'third fastest growing' in Latam
Saturday, August 3rd 2013 - 01:38 UTC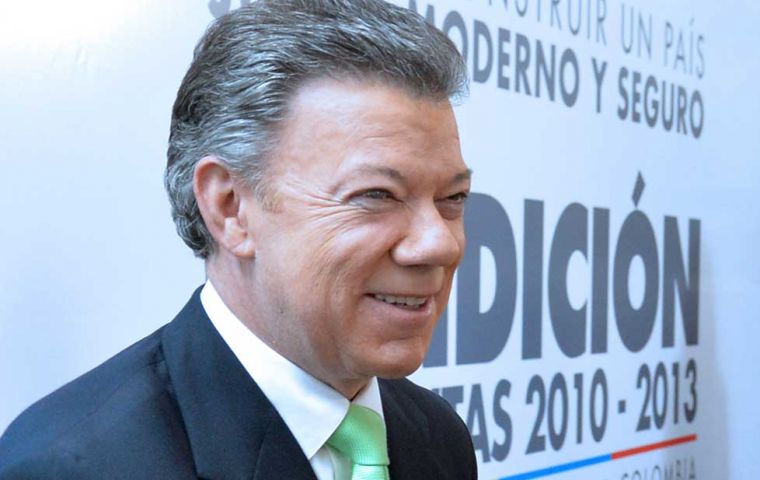 The Colombian economy is the third fastest growing in Latinamerica with a stable performance in 2012 of 4%; an estimated 4.5% this year and 4.7% in 2014, said President Juan Manuel Santos on making a balance of his three years in office.
"The economic strategy started in 2010 has been a success confirmed by data: inflation of 2.16% in the last twelve months to June and unemployment going down for months and remains below two digits", said Santos who underlined that in the construction of a modern country infrastructure, a roads system so that production moves faster and safer, access to reliable energy and to technology "become essential for any economy".
Likewise the government has managed public monies with 'prudence and responsibility', which generates confidence and spurs sustained growth with abundant domestic and foreign investments.
"Improved finance means resources for government priorities such as reducing inequality, inclusive policies and confirms a healthy, stable and competitive economy".
President Santos also pointed to the significance of Colombian access to new markets since the country's economy can't expect to grow only with the domestic market, "so that is why we need to conquer markets to further expand, generate prosperity and invest in social programs".
"That is why free trade agreements are a powerful instrument of that mechanism which enables us to have access to other markets, to produce better, create more jobs, appealing to foreign markets to grow and become competitive".
To that respect he mentioned that this month (August) a trade agreement with the European Union which was negotiated with Peru back in 2007 becomes effective opening the doors to a high income market of 500 million Europeans.
"To build a modern country you need a strong economy that creates good jobs, more jobs and formal jobs, and I admit we have challenges ahead still", said Santos who revealed that in his three years two million new jobs were created, but "there are still 2.1 million Colombians looking for jobs and can't find them".