Argentina Electoral court urges Congress to revise laws on state advertising in campaign periods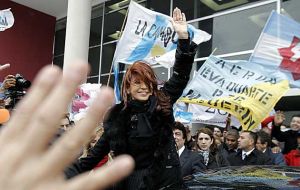 Argentina's National Electoral Court urged the Congress to revise the laws concerning state advertising in electoral periods so as not to benefit ruling party candidates. There have been several claims that President Cristina Fernandez is going over the line in supporting her candidates.
In 2011, the Association for Civil Rights (ADC) filed a suit asking the courts to suspend government advertising in audiovisual media in order to guarantee an equal standing for all political parties. Due to the magistrates' delay in delivering a ruling, the ADC organization repeated its request and this week the verdict was released.
Judges Alberto Dalla Via, Rodolfo Munné and Santiago Corcuera unanimously called for Congress to intervene and regulate state advertising during electoral periods, which is only regulated when there is an expressed intention to win over votes.
The NGO had said that the content shown in the campaign by the ruling party is similar to state advertising, which can be detrimental to the freedom of expression in equal conditions.
When filing the suit, the ADC association also added that getting to elective positions seems particularly difficult for those candidates who currently do not hold any of those positions.
Quoting doctrine, the judges said that inequality in the use of media is of great importance in the results of an election. They also highlighted that state advertising has a fundamental role in a republican system because the government has to divulge its acts, so that all citizens have information on the decisions made by public officials.
The electoral tribunal requested the electoral prosecutors have an active participation in the control of the whole electoral schedule and to monitor the political campaigns.
In related news Alejandro Tullio, the National Electoral chairman confirmed that social networks like Twitter and Facebook are not included in the electoral ban.
While the National Electoral Code forbids "to publish or to spread poll results and projections during the voting process, until three hours after the closure", Tullio revealed that "Twitter and Facebook accounts are not included in the law".
Next Sunday 11 August Argentina will be holding open, simultaneous and mandatory primaries (PASO) to define on one hand, which parties will be allowed to run in the October 27 midterm election and, on the other hand, it will determine the list of candidates representing each party.
In order for a party to qualify as a contender in the main elections, it must obtain at least a 1.5% of the votes. For the first time, 750,000 people aged 16 to 17 will be able to cast their ballot.