Uruguay concludes successfully the issue of a new 2024 global bond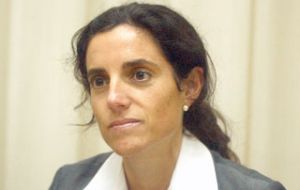 Uruguay sold 2 billion in a new 2024 global bond at a yield of 4.521% as a part of a debt liability operation that includes a debt swap, the government said on Wednesday.
According to the release Uruguay accepted offers to swap the new paper for dollar-denominated bonds maturing from 2015 to 2025 with a market value of 996 million.
The rest of the proceeds will be raised in cash to cover Uruguay's financial needs. The sale was managed by HSBC and Deutsche Bank.
"It was a very successful operation" said Azucena Arbeleche head of the Ministry of Economy Debt Department because it allowed Uruguay to create a new dollar-10year reference-bond and thus "consolidate the sovereign debt financing policy".
Uruguay's debt management policy has been to have cash availability to address twelve months of maturing debts and interest payments. However in recent months the ratio had fallen to eight months, so it was decided to take advantage of the favourable conditions of money markets with historic low rates to rebuild the position.
"Yes it was a successful operation. We were able to sell 2bn dollars in a world context with calm markets which is also risky for a new issue and of this magnitude", said Enrique Goyetche, head of HBBS Uruguay Global Markets department.
The interest rate (4.5%) was among the lowest compared to countries with similar risk characteristics for ten year issues.
In effect apparently only Colombia, Peru and Brazil managed just slightly lower rates.
Ms Arbeleche said that one of the objectives of the issue was to create a new reference bond in the ten year horizon because "a liquid bond attracts more investors" and this liquidity was the main attraction of the 2014 bonds.