UK opens second largest offshore wind farm in the world
Saturday, August 10th 2013 - 01:58 UTC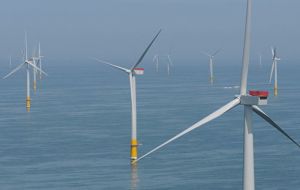 Greater Gabbard wind farm, which is reportedly the second largest offshore wind farm in the world, costing £1.3 billion and generating enough clean electricity to power over half a million homes, was officially opened off the British coast of Suffolk by the Energy and Business Minister Michael Fallon.
Greater Gabbard has 140 turbines and will double in size once the Galloper wind farm extension is completed in 2017.
Offshore wind has the potential to provide enough clean power for 11 million homes in the U.K. by the end of this decade, creating 30,000 jobs and contributing £7 billion to the economy.
Energy and Business Minister Michael Fallon said, "The U.K. leads the world in offshore wind power generation with more capacity than the rest of the world combined, and we want to see this sector grow even further.
"Greater Gabbard has already brought jobs and wider benefit to the local community, with hundreds of people employed on site, and a £150,000 fund created to support local initiatives, which will be managed by Suffolk Community Foundation.
"It has also benefited local business. Today, I visited Seajacks, a British company based in Great Yarmouth, who are building the world's largest and most advanced offshore wind farm installation vessel to transport turbines out to this great wind farm.
"This sector is an engine of our economy. By the end of this decade, tens of thousands of additional jobs could be created in the supply-chain for offshore wind throughout the U.K."
The Offshore Wind Industrial Strategy, published last week, sets out Government and industry's joint plans to help build a thriving U.K. supply chain for offshore wind.
Investment by the Government includes £20 million from the Regional Growth Fund to improve the U.K. wind industry's supply chain, and £46 million to join up innovation between industry, Government and academia and help companies to bring new products to market.
This, alongside the draft strike prices for renewable energy, and the long-term contracts offered to investors under the Energy Bill, provides a stable and certain regime that is attractive for investors in renewables.
Michael Fallon also visited the Sizewell nuclear power plant today to learn more about how Greater Gabbard will connect to the national transmission network.