Vazquez is the Uruguayan political leader with the highest acceptance, 62%
Saturday, August 10th 2013 - 02:33 UTC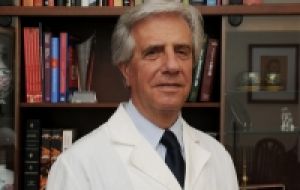 Former Uruguayan president Tabare Vazquez who this week announced he was prepared to be the ruling coalition's candidate for next year's presidential bid, is by far the political leader of the country which has the highest degree of acceptance, according to a Mori public opinion poll released earlier in the week.
According to the poll, Tabare Vazquez has a 62% support, followed by President Jose Mujica with 50% and Vice-president Danilo Astori, 43%.
Opposition leaders fall behind with Jorge Larrañaga from the main opposition party with 37% support; Luis Lacalle Pou, also from the National party, 33%; Pedro Bordaberry leader of the junior opposition party 33% and the Independent party leader Pedro Mieres, 16%.
The poll shows that the leaders of the ruling coalition are well ahead of those from the opposition regarding preference. However Mori points out that this does not mean vote intention and only refers to public opinion's feeling towards the political leaders.
But Mori also surveyed political party preferences and here again the ruling Broad Front coalition leads with 41% support; the National Party, 23%; the Colorado party, 16% and the Independent party, 2%. The list is completed with 14% undecided, uncommitted or who simply did not reply.
The Mori poll reflects similar findings from other surveys, which indicate that if national elections were held this month, Tabare Vazquez would repeat as president and the catch all alliance Broad Front would win with almost a clear majority.