Brazil's Rousseff approval rating bouncing back; support for economic team remains 'soft'
Sunday, August 11th 2013 - 21:19 UTC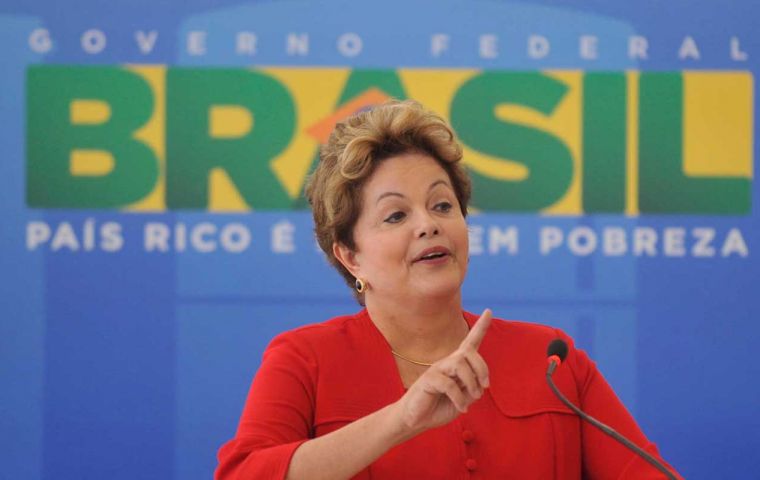 President Dilma Rousseff's approval rating gained six percentage points after diving in the wake of massive protests in Brazil, a poll published on yesterday showed. The number of Brazilians who consider Rousseff's administration "great" or "good" was 36%, up from an all-time low 30% in late June.
According to a Datafolha opinion poll published in local newspaper Folha de São Paulo the recovery, though still far below the 65% approval she had in March, reflects slightly more confidence in Brazil's economy as concerns about inflation ease.
The poll also showed Brazilians are less supportive of the mass protests that drew one million to the streets at their peak in mid June. The demonstrations dealt with a range of issues including corruption and poor transportation, and some say they lacked focus.
The number of Brazilians who said the protests had resulted in positive changes fell to 49% from 65% in Datafolha's last poll.
The 27 percentage point drop in Rousseff's approval in just three weeks that Datafolha reported on June 29, after the protests, was the sharpest suffered by a Brazilian leader since 1990.
Rousseff, who is expected to run for re-election next year, at one point had one of the highest approval ratings in the western hemisphere. The poll published on Saturday morning did not include voter intention.
The number of Brazilians who consider Rousseff's administration "bad" or "terrible" fell to 22% from 25% a month earlier, the poll said.
The approval rating of her economic team, led by Finance Minister Guido Mantega and central bank president Alexandre Tombini, rose slightly to 30% from 27% a month earlier.
Pessimism over inflation was nearly stable at 54% from 53% a month earlier. Inflation in Brazil had been rising since December, but slowed sharply in July after authorities in several cities and states rolled back public transport fare increases after the protests.
The poll, conducted August 7-9, surveyed 2,615 people and has a margin of error of plus or minus two percentage points. But the poll did not have time to measure the impact of the latest corruption claims made public in the last three/four days involving both the main opposition party and the ruling Workers Party.