Changes ahead for Brazil's benchmark Bovespa stock index BVSP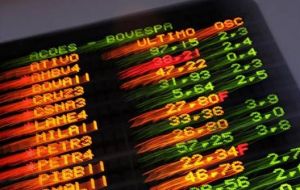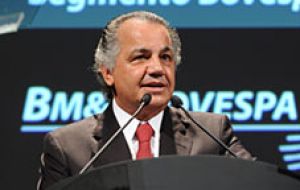 Brazil's 45-year-old benchmark Bovespa stock index BVSP could be subject to changes in its structure for the first time to better reflect new trends facing the country's economy, financial bourse BM&FBovespa SA announced last week.
The bourse could announce changes as early as next month, CEO Edemir Pinto told reporters at an event to discuss second-quarter earnings. The Bovespa is currently comprised of 71 stocks from 64 companies, mostly from the commodities, financial services and industrial sectors.
The issue is being discussed with market participants, Pinto said. He declined to elaborate on any potential specific modification to the Bovespa, but said changes could be brought about in areas such as weighting, and in rules for the inclusion and exclusion of companies in the index.
The decision underscores the growing pressure from international and local investors for a stock market gauge that better mirrors the new realities of Brazil's economy. During the past decade, more than 40 million people joined the middle class, driving a hefty expansion in services and helping re-balance the influence of commodity and industrial companies.
"The preoccupation of investors has always been ours too," Pinto said, referring to the structure of the index. "It is important that the market has a benchmark that is reliable, that is predictable and well-structured."
The Bovespa, a gross total return index, has grouped the most-traded stocks in the São Paulo Stock Exchange with no technical change since its inception in 1968. The stocks forming part of the index account for more than 80% of trades in the equities cash market and 70% of the market value of the companies listed on the bourse.
Potential changes in the Bovespa loom as the exchange faces the entry of new competitors in the equities trading business. A new pricing policy to lower trading fees, a weak economy and dwindling confidence has also weighed on volumes for months.
NYSE Euronext and Rio de Janeiro-based trading system company Americas Trading Group are seeking approval from the CVM to open a new exchange in Brazil. For most of last year, BM&FBovespa officials said renting so-called post-trading facilities could be possible only after the bourse finalized the integration of its four clearinghouses.
The deadline to deliver recommendations for the new rules is Monday. The CVM put the rules up for discussion with market participants in a public hearing.