Brazil urged for agreement with EU, since next year it will lose trade preferences
Monday, August 12th 2013 - 18:03 UTC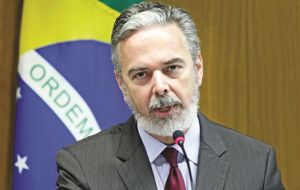 Brazil, Latin America's biggest economy, is planning to try to negotiate a separate trade deal with the European Union, Foreign Minister Antonio Patriota said in remarks published Monday.
Brazil has been struggling since 1999 to reach such a deal with the EU alongside its partners in the Mercosur economic bloc: Argentina, Venezuela, Paraguay and Uruguay.
But the issue has become more urgent because rising Brazilian prosperity means it is set to lose EU trade preferences next year. A separate trade deal would help it regain them and could be presented in Brussels before the end of the month.
Patriota told Britain's Financial Times that Brazil would present a proposal this month for a Mercosur-EU deal that would allow Brasilia to move ahead with its own agreement.
"There are objective conditions that create strong incentives for an advance on the EU-Mercosur front," he was quoted as saying.
But, he said, there was "an anticipation that each [Mercosur] country may be able to negotiate at separate speeds."
Any deal could cover 80 billion dollars worth of bilateral trade between Brazil and the EU. Brazilian officials have insisted, however, they remained firmly committed to Mercosur.