Pope calls for respect for human life from conception; sends Ramadan message to Muslims
Monday, August 12th 2013 - 18:21 UTC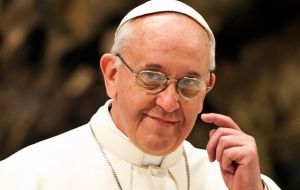 Respect for human life from conception until natural death is something children must be taught, not mainly with words, but by the example of their parents, Pope Francis said. "Parents are called to pass on to their children the awareness that life must always be defended," Pope Francis wrote in a message to people joining in the Brazilian Catholic Church's celebration of Family Week, which began August 11.
The pope returned to his condemnation of the "throwaway culture," something he spoke against several times during his July 22-28 visit to Brazil. He had said that modern cultures tend to treat even human lives as disposable, pointing to the way people societies and even governments tend to treat both the young and the old.
In his message for Family Week, he said parents have a responsibility to fight that disposable culture by teaching their children that human life, "from the womb," is a gift from God. New life ensures the future of humanity, he said, while older people -- especially grandparents -- "are the living memory of a people and transmit the wisdom of life."
The Pope also charged married Catholic couples and their children with the task of recognizing they must be "the most convincing heralds" of the beauty and grace of Christian marriage.
Likewise Pope Francis delivered a message to Muslims celebrating the end of Ramadan.
Speaking at the Vatican at the end of his Angelus address Francis said: "I would like to greet Muslims all around the world, our brothers. I wish that Christians and Muslims will commit to promote mutual respect, especially through education of new generations."
The Pope expressed "esteem and friendship for all Muslims, especially those who are religious leaders" and focusing on the theme of "Promoting mutual respect through education" the message stresses the importance of thinking, speaking and writing respectfully about others and always avoiding unfair criticism or defamation. Families, schools, religious teaching and the media, it says, all have a role to play in achieving this goal.
Underlining the importance of positive inter-religious relations, the Pope says Christians and Muslims are called to respect the teachings, symbols, values and especially the leaders and places of worship of the other religion.