Malvinas/Gibraltar hand-to-hand with Argentina: "a ridiculous adventure" opposition tells Rajoy
Thursday, August 15th 2013 - 02:56 UTC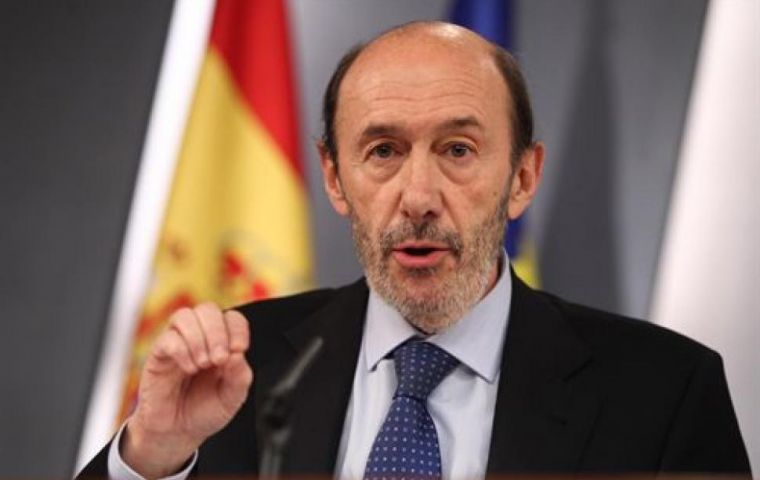 The leader of Spain's opposition Socialist Alfredo Perez Rubalcaba called on the government of president Mariano Rajoy "to avoid adventures that could end looking ridiculous" such as the possibility of a 'hand to hand' with Argentina on the Malvinas and Gibraltar cases and instead should look at all the money laundering that takes place in the British Overseas Territory.
Speaking with the local media in a small Asturias village where he was meeting with local farmers Perez Rubalcaba recalled that a week ago he said the Spanish Socialist-Workers Party, PSOE, would support the Rajoy government is all related to Gibraltar since it is a "matter of state".
But ironically the Socialist leader added that the best way he has to convey the PSOE support message to President Rajoy is with an 'SMS' since "two days have gone by and he does not seem to be aware he has our backing in the conflict".
However Perez Rubalcaba insisted that he requests the Spanish and British governments to sit down and negotiate, "since dialogue is always far better than threats".
"Strident statements cover pages and pages but this is an issue to be addressed in the negotiations table", insisted Perez Rubalcaba who believes that environmental problems can be addressed in the framework of the European Union, from the moment "the government of Gibraltar has acted wrongly when it decided to fill the Algeciras bay with cement (blocks)".
Perez Rubalcaba emphasized on the government of Mr. Rajoy "the need of acting with more caution" in the Gibraltar controversy "since some adventures can end making fools of themselves" and warned that 'hand to hand' with Argentina is "a fancy idea in which Spain cannot continue".
"The current situation calls for prudence and not falling into the ridicule because the whole issue is very serious", insisted the opposition leader.
As to the strict checks imposed by the Spanish government in the border with Gibraltar causing long queues, "the government should be more concerned about capital inflows and outflows because Gibraltar receives a lot of money and some of it of doubtful origin".
Finally the Socialist leader pointed out that "this situation should not be allowed", the same with the fiscal benefits awarded by the BOT which attracts "an inflow of really bad capital", and if Mr. Rajoy is determined to talk about movement restrictions, "the first should be on dirty money looking for laundering".
Perez Rubalcaba was referring to recent proposals from the conservative and nationalist media in Spain calling for a joint action with Argentina before the UN in the cases of the Falklands/Malvinas and Gibraltar.
Spanish Foreign minister Jose Manuel Garcia-Margallo is scheduled to arrive in Buenos Aires next 2 September with a full agenda of contacts, mainly referred to the YPF majority stock seizure from Repsol by the Argentine government.