Argentina's official July inflation 0.9%, less than half private estimates
Friday, August 16th 2013 - 03:18 UTC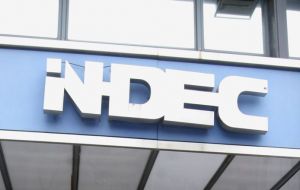 Argentina's Consumer Price Index (IPC) was up 0.9% in July, 5.7% in the first seven months of the year and 10.6% in the last twelve months, the official statistics bureau Indec reported on Thursday.
This is almost a third of the estimate from private analysts which is released by the opposition members from the congressional Lower House Freedom of Speech committee. Lawmakers said inflation in July was 2.55% and 24.9% in the last twelve months.
Wholesale prices soared 1.1% in July, 13.7% in the last twelve months and 8% in 2013, while construction costs were down 0.1%
According to Indec the item which experienced the highest increase was Leisure and Entertainment, 3.4% (July vacations), followed by home equipment and maintenance, 1.5% and food and beverage, 1.2%. However healthcare compensated since it was up 0.2% and public utilities rates, 0.3%.
Finally the so called basic basket which defines the poverty line reached 1.700 Argentine Pesos (293 dollars at the official exchange rate and 200 dollars in the parallel market). This refers to the monthly income of a couple with two children.
Likewise the basic food basket below which people are said to be living in indigence conditions, climbed to 741 Pesos, equivalent to 127 and 87 US dollars.
Official stats in Argentina (since 2007) have been questioned thus the so called 'congressional index'. The trade unions also have their own price measuring mechanism at supermarkets from which is collected to make their salary increase demands.
The IMF and World Bank have clashed with Argentina over the reliability of inflation and GDP growth stats, and most multilateral organizations take as reference the consumer price index from certain provinces, which are not under the control of President Cristina Fernandez.
Last year Indec estimated inflation at 10.8%, while the private consultants' average released by congress was 25.6%. For this year the Argentine government is anticipating an inflation of 11.2%