South American defense ministers meet to improve monitoring of Amazon region
Friday, August 16th 2013 - 03:27 UTC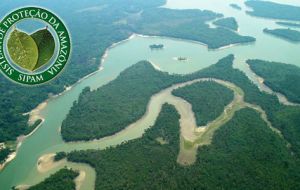 South American defense ministers gathered in the northern Brazilian city of Manaus on Thursday to discuss how to improve monitoring of the huge Amazon region. Attending the seminar which runs through Friday are Brazil's Celso Amorim, Colombia's Juan Carlos Pinzón and Ecuador's María Fernanda Espinosa.
The meeting is sponsored by Brazil's Amazon Protection System Management and Operational Center (Cenispam) which is linked to its defense ministry.
"Cenispam has experience in areas such meteorology, hydrometeorology, satellite tele-detection and ground work in support of operations against illegal activities," a ministry statement quoted Cenispam head Rogerio Guedes as saying.
The seminar is part of the Union of South American Nations (UNASUR)'s objective to upgrade a system to manage special and isolated areas of the world's biggest rainforest, including indigenous reserves and environmental sanctuaries.
Guedes said Cenispam monitors 60% of Brazilian territory and hopes to share its experience with other UNASUR members.
UNASUR includes Argentina, Bolivia, Brazil, Chile, Colombia, Ecuador, Guyana, Paraguay, Peru, Suriname, Uruguay and Venezuela.