Paraguay's Cartes will attend Unasur summit in Suriname; 'informal' meeting with Venezuela's Maduro?
Monday, August 19th 2013 - 13:17 UTC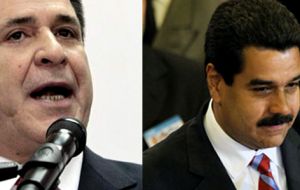 Paraguay's newly inaugurated president Horacio Cartes will be attending the Unasur summit (Union of South American Nations), scheduled for the end of the month in Paramaribo, Suriname, when most probably he will 'come across' with his Venezuelan peer Nicolas Maduro, announced the Paraguayan foreign ministry. Paraguay and Venezuela currently have no diplomatic links.
"The Unasur summit will be taking place 30 August in Paramaribo and President Cartes has confirmed his attendance", said Paraguayan Foreign minister Eladio Loizaga. "This will mark the official return of Paraguay to Unasur following the decision adopted on 29 June 2012", he added.
Peru currently holds the rotating chair of Unasur and at the Paramaribo ceremony the presidency will be passed on to Suriname. Most probably since the presidents of Paraguay and Venezuela have confirmed attendance, Cartes and Maduro will come across each other and there could be 'some informal talks'.
Asuncion and Caracas have relations interrupted since Paraguay considers 'illegal' the incorporation of Venezuela to Mercosur, and has anticipated it is in no rush to return to the group until the juridical aspects of that decision and the suspension of Paraguay from Mercosur in June 2012, are overcome.
Brazilian and Argentine diplomacy have been trying so far unsuccessfully to pressure Paraguay on returning to Mercosur that lifted the suspension last July effective 15 August when Cartes was inaugurated. Dilma Rousseff, Cristina Fernandez and Uruguay's Jose Mujica attended the ceremony but Maduro who is currently president of Mercosur was not invited, although he did send a letter congratulating Cartes on his taking office.
Maduro was also considered 'persona non grata' by Paraguay in June 2012, when as Foreign minister of Hugo Chavez he was recorded on video instigating the Paraguayan Chiefs of Staff to send troops to the streets in support of ousted Fernando Lugo.
Lugo was removed following political impeachment by the Paraguayan Senate by an overwhelming vote. The former president accepted the sovereign decision from the Senate but later backed down under pressure from Mercosur.
Cartes foreign agenda also includes the UN General Assembly, 24 September and the XXIII Ibero-American summit in Panama on October 18/19. In Panama the motion will be "The political, social, economic and cultural role of the Ibero-American community in the new world context".