UK espionage next in the list of revelations, anticipates Greenwald
Tuesday, August 20th 2013 - 01:07 UTC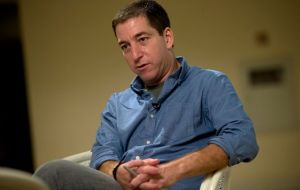 Journalist Glenn Greenwald, who broke news on former security contractor Edward Snowden's allegations of U.S. surveillance programs, said he will publish revelations on U.K. intelligence after his partner was detained in London.
Brazilian David Miranda was held up for nine hours at Heathrow airport for questioning Aug. 18 under the country's Terrorism Act. Greenwald said the detention would not intimidate him and that he has many documents on England's system of espionage to reveal.
"I will report much more aggressively than before," Greenwald told Globo TV after welcoming Miranda at Rio de Janeiro's international airport yesterday. "They will regret what they did."
Brazil's Foreign Ministry expressed "grave concern" over the Heathrow incident, according to a statement issued on its website, which did not mention Miranda's name. "This measure is without justification since it involves an individual against whom there are no charges that can legitimize the use of that legislation," the ministry said.
Prime Minister David Cameron's spokesman Christian Cubitt told reporters yesterday that Miranda's detention was "an operational matter for the police."
Snowden, a 30-year-old former security contractor, released a trove of classified documents in June that showed efforts by the United States NSA to log domestic and international phone calls and track electronic messages on social media. Facing criminal charges in the U.S., Snowden received temporary asylum in Russia, straining relations between the countries.
President Barack Obama said the NSA programs were useful to national security and that Snowden is not a patriot.
The U.S. knew that Miranda would be detained by U.K. authorities, State Department spokeswoman Jen Psaki said yesterday.
"We were informed in advance, we did not ask the U.K. to undertake this," Psaki said.
Keith Vaz, the chairman of the U.K. Parliament's Home Affairs Committee, said he has written to the Metropolitan Police Commissioner requesting a justification of the use of the anti-terrorism law in this case.
"At the moment, it does seem extraordinary that this particular piece of legislation was used in this particular way," Vaz told the BBC yesterday.
Widney Brown, Senior Director of International Law and Policy at Amnesty International said on the human rights group's website that Miranda's detention "was unlawful and inexcusable."
"He was detained under a law that violates any principle of fairness and his detention shows how the law can be abused for petty vindictive reasons," Brown said.
Miranda was returning to Rio from Berlin, where he had spent a week with Laura Poitras, a U.S. filmmaker who has worked on the National Security Agency stories with Snowden and Greenwald, the Guardian reported on Sunday. Miranda didn't have the right to a lawyer during his questioning in London, Greenwald wrote in the Guardian, which says it paid for the trip.
London police said a man they declined to identify was "subject to a detailed decision making process" on Sunday and that he was offered legal representation. The use of police powers was "legally and procedurally sound," they said in an e-mailed statement.
Miranda told Globo TV that British authorities confiscated his computer and mobile telephone. O Globo newspaper reported July 6 that Brazil was a priority target of U.S. monitoring
The U.K. Embassy in Brasilia said in an e-mailed statement that Patriota and his U.K. counterpart discussed the issue by phone on Sunday and agreed for both governments to remain in contact.