Argentina media law dispute between Cristina Fernandez and Clarin reaches UK newsstands
Wednesday, August 21st 2013 - 18:31 UTC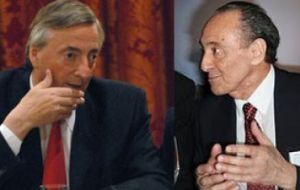 The conflict between the administration of President Cristina Fernandez and the powerful Clarín media Group CEO Héctor Magnetto crossed the Atlantic and reached UK newsstands as British daily The Guardian published an article on Argentina's Media Law.
The piece comes a week before the long-awaited public hearing summoned by the Supreme Court to have representatives of the Kirchnerite government and the Clarín Group field their cases pro and against the 2009 law takes place.
Jonathan Watts, Latin America correspondent for The Guardian, writes in the piece that President Cristina Fernández "awaits" the ruling by the country's highest court on the constitutionality of three articles included in the Law 26.522.
The author explains that supporters of the Kirchnerite believe the new law "is designed to break up a dangerous monopoly, but critics challenge it as being a dictatorial attack on freedom of expression."
Watts goes on to write that "none can match the influence of Grupo Clarín, which has dominated Argentina's media landscape for half a century. For much of that time, its flagship daily was the most popular newspaper in the Spanish speaking world," adding that the paper "initially supported the Kirchner couple administration, but a spectacular falling-out at the beginning of 2008 has resulted in a long-running political battle".
The Clarin media group traditionally has been relatively independent from the different Argentine governments, but has also enjoyed close relations. When the Kirchner couple took office they helped the group refinance a 2bn dollars standing debt following the collapse of the Argentine economy.
The article, published at a time when The Guardian is at the centre of the media world because of its claims that the British government threatened legal action unless it destroyed information, compares the Argentine regime in terms of media conglomerates and their relationship with the government to the media landscape in other Latin American countries, including Brazil, Venezuela, Ecuador and Chile.
The article describes a "trend" in South American countries. "Four big media groups all with past ties to right-wing dictatorships have a combined market share of as much as 80% in South America. By clamping down on their influence with new laws and legal challenges, and by boosting the competitiveness of public media through heavy investment in radio and television channels, governments in Venezuela, Bolivia and Ecuador say they are trying redistribute access to information in much the same way as they have promised to share wealth more equitably."
The article quotes Ricardo Kirschbaum, executive editor of Clarín newspaper, Martín Sabbatella, the head of the Federal Audiovisual Communications Services Authority (AFSCA), and Guillermo Mastrini, an academic who helped to draw up the media law. (BAH).