Falklands' lawmakers thank Cristina Fernandez for helping get the Islanders' message to the world
Thursday, August 22nd 2013 - 23:45 UTC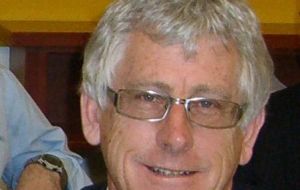 Falkland Islands lawmakers at their final assembly on Thursday thanked Argentine President Cristina Fernandez for her, undoubtedly unintended assistance in getting the Falklands story publicized world-wide and in repeated headlines, reported the latest edition of the Penguin News in its front page.

"We must be grateful for the marvelous chances afforded to the Islands by President Cristina Fernandez who has presented more opportunities than could ever have been envisaged for engaging with media worldwide and getting Islanders views expressed", said Member of the Legislative Assembly, Dick Sawle in direct reference to Cristina Fernandez and the Argentine government's vocal and aggressive policy on the Falklands issue.

"It was probably the biggest surprise during the life of the Assembly", added MLA Sawle at the final session when all members thanked the many people who had supported them during their time on the Legislative Assembly, "but perhaps it was the first time the opportunity had risen to thank the President of Argentina".

"We have been criticized by some (in the Islands) for spending too much time abroad and ignoring domestic issues. I would agree it is a fine balance but the rewards have been truly tremendous," said MLA Sawle. Those rewards had culminated in the referendum in March, when a "truly astounding" result which the world could not ignore had been made public.

MLA Sawle compared the concerted effort to spread the word overseas as rather like a ship being released on a slipway. "It starts with very little apparent movement, the bottle is smashed on the bows, nothing seems to happen until there is an almost imperceptible movement and then slowly but surely it gathers momentum," he said, adding that he truly believed the Falklands were now gathering momentum. "It takes time, but we must keep the pressure up," he said.

MLA Ian Hansen said the Public Diplomacy move concentrated on over the last two to three years had been a brave and controversial move, but he believed it had "paid off."

MLA Roger Edwards said this Assembly would leave the Islands in a stronger position with regard to Public diplomacy. "We have certainly countered the political lies and threats by Argentina and have spread the message about the Falklands across the world," he said.

MLA Mike Summers said it seemed he had spent little time in this House and little time in the Falklands.
"I apologize to those I have a duty to represent, but it is part of the Public Diplomacy process and an essential part of our work," he said.