South Georgia releases stamps commemorating former governor Sir Rex Hunt
Monday, August 26th 2013 - 07:40 UTC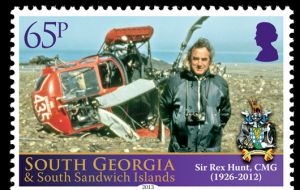 South Georgia and the South Sandwich Islands are currently promoting the release of a set of stamps commemorating the life of the former Falklands and dependencies governor Sir Rex Hunt. The release of the stamps on June 11 coincided with a memorial service for Sir Rex Hunt at St Clement Danes, the Central Church of the Royal Air Force, London.
The Falkland Islands released a set of stamps at the same time also commemorating the Islands most well-known Governor.
When Sir Rex came to the Islands in 1980 South Georgia and the South Sandwich Islands were dependencies of the Falklands.
In December 1981 he sailed for South Georgia on HMS Endurance accompanied by his wife Mavis.
"It is difficult to convey the thrill of one's first sighting of this magnificent island," wrote Rex later in his memoirs 'My Falkland Days'.
Former Falklands Governor David Tatham wrote of the visit in 'The Dictionary of Falklands Biography' (2008) as follows: "This was to be a tour of inspection of the various scientific stations of the British Antarctic Survey (BAS) on the Island; but it proved eventful.
"On a visit to two film-makers, Cindy Buxton and Annie Price, the naval Wasp helicopter in which Rex and Mavis were flying crash landed in high winds. It tipped nose down and did a somersault.
Cindy and Annie looked on in horror and then rushed over with fire extinguishers in case they were needed, but luckily no fire broke out and Rex and Mavis climbed out unharmed albeit somewhat shaken. Though the crew and passengers were safe, the Wasp was a write-off. (PN).-