Brazil's Mantega admits 'mini-crisis'; blames the US Fed confusing messages
Tuesday, August 27th 2013 - 22:06 UTC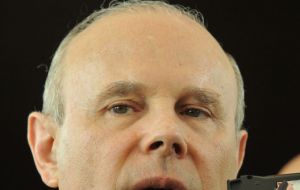 Brazil's economy is going through a "mini crisis" stemming from global markets turbulence made worse by confusing messages from the US Federal Reserve, complained Finance Minister Guido Mantega.
Speaking to business leaders in Sao Paulo, Mantega said that record-high foreign reserves and low public debt levels will help shield Brazil from a sharp drop in the value of its local currency and weaker economic growth both domestically and abroad.
"It's a mini crisis that we are going through, but it will have a much smaller impact than what happened, let's say, in the European crisis of 2011 and 2012," Mantega said.
Mantega said that the US Federal Reserve has communicated its plans to reduce monetary stimulus "poorly" prompting some of the wild swings in the value of currencies and stocks in emerging market economies.
In July, Mantega stated that the worst of the financial turbulence was likely over after Fed chairman Ben Bernanke clarified that a scale back in monetary stimulus hinged on the strength of the recovery in the US.
After a brief period of calm the Brazilian Real plunged to near five-year lows against the dollar in August, forcing the Brazilian central bank to launch a 60 billion dollars currency intervention program last week to ease its depreciation.
A weaker Real raises the value of imported goods and the cost of debt servicing for local companies, further hurting investors' confidence in Latin America's largest economy. The real has weakened about 18% since May.
Although the Brazilian economy is likely to show a pick up in activity in the second quarter, recent data points to a weak recovery ahead with some economists predicting economic growth closer to 2% this year.
Mantega said the local economy would remain robust, however, boosted by an increase in investment and the impact of infrastructure concessions which could mean investments of over 100bn dollars.
However Brazil's current account deficit more than doubled in July from a year ago, according to the latest Central bank data. The gap reached 9.08 billion dollars in July, while a year ago the deficit was 3.75bn dollars. The current account is a country's broadest measure of foreign transactions encompassing trade, profit remittances, interest payments and other items.
In the first seven months of this year Brazil accumulated a current account gap of 52.472bn, nearly double the 28.99bn posted in the same period a year ago. Even so, foreign direct investment during the same period this year totalled 35.239bn, lagging the 38.169bn of FDI in same period last year.