Brazilian foreign minister removed following diplomatic incident with Bolivia
Tuesday, August 27th 2013 - 01:19 UTC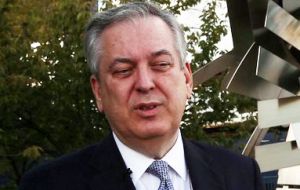 Brazilian foreign minister Antonio Patriota has stepped down and will be replaced by the current representative before United Nations Ambassador Luis Alberto Figueiredo Machado, it was confirmed Monday evening by the spokesperson from President Dilma Rousseff's office.
Patriota was forced to leave his post following an incident involving Bolivian senator Roger Pinto Molino who had taken refuge in the Brazilian embassy in La Paz since May 2012. Pinto arrived in Brazil on Saturday 24 August after a 22-hour trip in a Brazilian diplomatic vehicle.
The case triggered a protest from Bolivia since the Senator, who opposes President Evo Morales, has been accused by Bolivian courts of alleged involvement in corruption practices.
Bolivian foreign minister David Choquehuanca claimed on Monday that the Brazilian embassy in La Paz had violated international rules by facilitating the exit of Senator Pinto from the country.
Choquehuanca demanded an official explanations from Brazilian authorities since Senator Pinto fled accompanied by Eduardo Saboia, Chargé d'affairs of the Brazilian embassy in La Paz, who apparently did not inform Itamaraty.
"We are formally requesting an explanation from Brazilian authorities since national and international rules have been violated to facilitate the escape", said minister Choquehuanca. "This is a most negative incident: under protection of diplomatic immunity you can traffic drugs, arms and people. What happened is extremely serious".

Pinto left the embassy in a diplomatic vehicle next to Saboia and Brazilian marines in charge of the embassy's security in La Paz. After 22 hours they reached Corumbá in Matto Grosso do Sul, where Brazilian Senator Ricardo Ferraco from the main partner in the ruling coalition and member of the Foreign Affairs committee was waiting and helped him take a flight to Brasilia.
"Pinto is a fugitive of Bolivian justice and has four arrest warrants pending. Brazil ignored the Caracas convention which impedes countries from receiving people with pending court issues", insisted Choquehuanca. "We demand answers to the situation".
Speaking on the program 'Fantastico', the leading television network in Brazil Saboia argued he had taken the extreme decision because 'the life and dignity of the Senator was at risk'.
Pinto last year was granted political asylum by the Brazilian government. He alleges to be a political refuge from the government of President Evo Morales, whom he has accused of involvement in drug trafficking.
Bolivian analysts said that given President Morales handling of diplomacy, the reaction of his government was relatively mild. This was supported by the fact that several ministers stated that for Bolivia the bilateral relation with Brazil is more important than the escape of a senator accused of corruption, despite the surprising way he fled from Bolivia supported by Brazilian diplomats.
"As is normal in these cases, the government is requesting information before making any decision or jumping to precipitated conclusions" said Communications minister Amanda Davila. "The case has not affected bilateral relations with Brazil".
Likewise the Social security minister Juan Ramon Quintana was equally cautious: "what does the Pinto incident represent against a bilateral trade of over 3 billion dollars? Leave it at that, there is no need to make a scandal of it".
Bolivian political scientist Roberto Laserna said that for Bolivia it does not make sense to have a conflict with an important partner such as Brazil. At the end of the day "the fact that the government did not grant Pinto a safe conduct to leave the embassy premises was only increasing the problem. Now with the Senator in Brazil the issue it is a fait accompli".
But Laserna added that the collaboration from the Brazilian Foreign Service also reveals a "certain disappointment with the judicial reforms sponsored by Morales in Bolivia. According to many critics those reforms only help to chase those who oppose Evo. So the message is that an important partner is not at all pleased with what is going on in Bolivia".
Besides "Senator Pinto from a non influential department in Bolivian politics, Pando, suddenly is bolted to a political relevance that he did not have even when asking for political asylum. He is now an important reference for the Morales opposition".