LAN appeals hangar eviction in Buenos Aires airport; unions pledge strike in support of Chilean carrier
Tuesday, August 27th 2013 - 02:19 UTC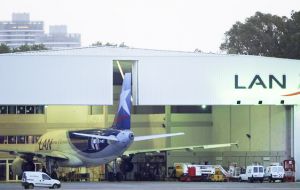 Lan Chile went to court in Argentina on Monday to appeal its eviction from a hangar at the metropolitan Buenos Aires Aeroparque airport, which is a crucial element of its national and regional operations. Several unions have anticipated that if the eviction is not stopped they will go on strike and interrupt domestic flights.
A spokesman for the airline confirmed that the local unit LAN Argentina had filed the court challenge. The standoff has raised tensions with neighbouring Chile, home of the airline's major shareholders, which once included billionaire Chilean President Sebastian Piñera.
Lan Argentina is part of the conglomerate LATAM (Lan Chile plus Brazil's TAM), the largest carrier in Latinamerica and one of the most efficient and money making in the world.
LATAM says Argentina's government is trying to undermine the company's competitive advantages against money-losing state-owned Aerolineas Argentinas.
LAN Argentina corporate affairs director Agustin Agraz criticized the ongoing pressures from Argentine authorities on the carrier.
"The eviction deadline from the regulator has been the most serious incident of a long list of attacks on our company: they have banned us from bringing aircraft; they withdrew our Lima-Rosario and Lima-Iguazú routes; they cut the number of flights to Sao Paulo and Santiago de Chile, they don't let us use the boarding tubes and discriminate our passengers", claimed Agraz.
The Lan director also questioned the fact that on Sunday Lan was described in one of the government television stations as "the opposition's airline' and recalled that the company employs 3.000 people "all of them Argentines".
Two unions for Argentine airline employees pledged a strike on Thursday affecting flights throughout the country, as they blamed the government's decision for risking some 1.500 jobs.
Argentina's airport regulator ORSNA said last Tuesday that LAN had 10 days to vacate the hangar at the Aeroparque Jorge Newbery because it was not a state airline. LAN is the main competitor of Argentina's flagship carrier, Aerolineas Argentinas, which was nationalized in 2008.
LATAM has said the decision puts the airline's domestic Argentine operations at risk. Lan Argentina represents 9.2% of the group's income.
The hangar which is crucial for the repair and maintenance of Lan Argentina's fleet was recently refurbished and re-equipped at a cost of five million dollars.
However there is a political side to the dispute. The regulator ORSNA as well as Aerolineas Argentinas and another company that services airlines in Aeroparque are under the control of La Campora, a youth organization funded by the Argentine government and headed by President Cristina Fernandez son, Maximo Kirchner.
With the silent consent of the Argentine government La Campora from its strategic positions has systematically tried to downgrade the efficient Chilean carrier.