Argentine bonds lose ground following the debt swap announcement
Wednesday, August 28th 2013 - 00:24 UTC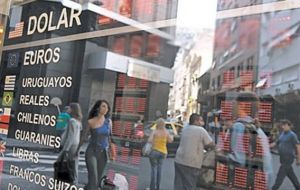 Argentina bonds in dollars, protected by local legislation fell the most in four months after President Cristina Fernandez announced she's sending a bill to Congress to reopen the debt swap so that holders of the 7% of pending non restructured debt can normalize their situation in similar conditions.
Local law bonds maturing in 2017 slid 2.85 cents to 85.29 dollar cents in New York, their biggest drop on a closing basis since April 12, according to data compiled by Bloomberg. The yield climbed 1.12 percentage points to 13.13%.
Cristina Fernandez also announced on Monday that holders of restructured bonds will be able to swap them into notes covered by Argentine law in a bid to prevent payment disruptions from any US court ruling which favours holdout creditors and orders full payment of the bonds.
On Aug. 23, a three-judge appeals panel in New York sustained a ruling from a lower court stating that Argentina must abstain from honouring discounted restructured bonds unless it pays the defaulted bondholders in full. The appeals court ruling which described Argentina as a "uniquely recalcitrant debtor" has gone to consideration of the US Supreme Court which will decide in coming weeks if it accepts or not the case.
The Argentine proposal precisely to skirt the possibility of an adverse ruling would give holders of discounted restructured bonds due in 2017, 2033 and 2038 the chance to swap them for Argentine law securities on the same terms, currency and payment conditions.
However switching into local securities may post risks for bondholders given Argentina's record and the fact it could unilaterally change the rules of the game.
"Risks increase for bondholders because the bonds have a very long maturity" said investors' advisor Louis Roehmeyer.
"Argentina shows willingness to pay today, but if there is a problem in the future Argentina will have no qualms in fooling investors again. Argentina can change local law at its own will".
In related news the US dollar traded on Tuesday at Buenos Aires banks and exchange offices at 5.59 Pesos (buying price) and 5.65 (selling price). In an 8-month period, devaluation has reached 14.5%.
However the informal market or 'blue dollar' jumped 25 cents and finally ended trading at 9.45 Pesos with a 63.7% gap between the official and the parallel rates.
Since last May the official exchange rate for the US dollar has been growing at an average 1.8% a month.