Santos prepared to talk with FARC leader Timochenko to accelerate peace talks
Wednesday, August 28th 2013 - 01:11 UTC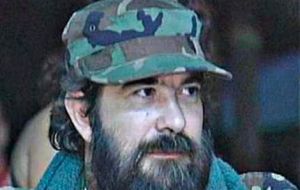 Colombian President Juan Manuel Santos has confirmed that he would consider meeting FARC rebel leader Timochenko to accelerate talks aimed at ending 50 years of conflict but warned the nation will continue at war if Colombians reject what is agreed at the negotiating table.
Santos, who started peace talks with the Revolutionary Armed Forces of Colombia, or FARC, back in November, said on Tuesday the time for peace is "now or never", but reiterated that any negotiated agreements must be ratified by popular vote.
In an interview with local radio, Santos said he is willing to meet Timochenko, whose real name is Rodrigo Londoño, in pursuit of peace so that Colombia can move into a different phase of stability and economic development.
"I think this is the most important process that Colombia can have and, if it's successful, the most important thing that can happen to Colombia in recent history," Santos told W Radio, referring to the talks hosted by Cuba.
"So if there's a need at some point, for the process to be successful, that a meeting takes place, I won't rule it out," he said when asked whether he would meet with the FARC leader.
More than three dozen FARC commanders are in Cuba working through a five-point agenda that would let the two sides declare an end to the fighting that has killed more than 200,000 since it began in 1964. The war has pit the FARC and a smaller rebel group, the ELN, against government troops and illegal paramilitary death squads.
Timochenko is not personally taking part in the negotiations and his exact whereabouts are unknown. He is thought to be coordinating the war from hiding in Venezuela.
Santos last week sent draft legislation to congress that would seek to ratify any deals signed in Havana through a referendum that would coincide with national elections next March or May. However FARC rejected point blank the initiative and demanded a constitutional reform and an end to the free trade agreement with the United States.
Santos is not only pressed by public opinion demanding results but also by former president Alvaro Uribe who has been campaigning against the peace talks, "a loss of time" with brigands and narcotic dealers and has formed his own party, Democratic Centre which is eroding on the current president chances and support.