Falklands' changes brought by oil development must be done 'with sensitivity and sensibility'
Friday, August 30th 2013 - 01:39 UTC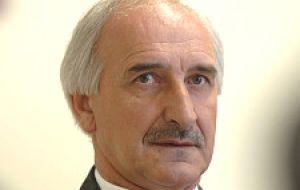 Falkland Islands lawmaker Mike Summers cautioned at the latest meeting of the Legislative Assembly that a period of extensive change was inevitable for the Islands since the advent of the hydrocarbons industry would change the size of things and to some extent the nature of the community.
"For all of those who hope that the Islands in 20 or 30 years time will still have 3,000 people and one small town, but with a lot more money, I'm afraid it won't be like that," he said.
MLA Summers added that "the advent of a hydrocarbon industry would change the Falklands in size and to some extent the nature of the community and the task of the new Assembly would be to ensure it was done with sensitivity and sensibility to make sure the things we value in our community are maintained and not destroyed".
The changes to the structure of the Falklands' Legislative Assembly would also bring change which, he said he hoped would be positive.
There was still a lot of work to be done to ensure it was all positive but it should speed up the decision making process and enable the Government to move more quickly on urgent matters.
MLA Gavin Short also looked ahead, saying the next four to eight years would shape the Falklands future. As the hydrocarbon regime started to take shape there would be two things to manage he said.
"One will be the expectations and pressures to start spending beyond our means without the guarantee we are going to hit the big time.
"The other is control. If hydrocarbons happen we are probably going to come under great pressure from those who would wish to part us from our cash and diminish the control we have over spending and investment decisions, and in how and what we do with revenues," said MLA Short.
While oil funds needed to be put away to invest in the future and, "sort out the crumbling infrastructure," he said, "we must never lose sight that this oil and the money that might come from it belong to the people of the Falklands and it is not going to be enough to use some of it to give a proper living wage to all".
He emphasized: "we are going to have to find some way of delivering part of that cash to the people".
MLA Short said whether it was a matter of reintroducing the old £1 a day scheme or subsidising things that make Falklands' life that little bit more enjoyable, making sure it covers both Camp and Stanley was "going to be fun" (PN).-