HMS Argyll completes intense period of counter-narcotics operations in eastern Pacific
Friday, August 30th 2013 - 08:08 UTC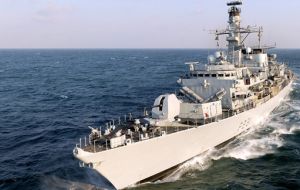 The Royal Navy HMS Argyll on the last weeks of its South Atlantic deployment and on route back to Davenport completed an intense period of counter-narcotics operations in the eastern Pacific Ocean.
On this deployment, the Type 23 frigate worked alongside her US, Canadian and Colombian allies to help deter potential drug traffickers from using the sea to transport their goods.
The Royal Navy contributes to counter-narcotics operations across the globe, whether it be cannabis and cocaine in the eastern Pacific and Caribbean, or intercepting insurgent heroin traffic using its Sea King airborne surveillance and control helicopters in Afghanistan.
In this case the Type 23 frigate had to use her full range of capabilities during the operations, including stopping and searching suspect craft, searching for vessels using her powerful radar, and launching her helicopter to search and, if necessary, stop suspect vessels.
One of HMS Argyll's key assets is her Lynx helicopter, known as 'Eagle One', which flew for over 37 hours during the counter-narcotics operations.
During this time Eagle One's crew detected and deterred illegal activity and found numerous vessels strongly suspected of smuggling or supporting other vessels actively engaged in smuggling.
Flight Commander Lieutenant Ben Jewson gives an idea of the task when the said that "Eastern Pacific operations such as this have not taken place for a while. The first thing we had to get to grips with was to understand counter-narcotics operations on the west side of the Panama Canal.
This work is part of Operation Martillo, a 15-nation collaborative effort to deny transnational criminal organizations air and maritime access to the littoral regions of Central America and put a stop to the illegal movement of drugs from South America to the western world.
HMS Argyll's Commanding Officer, Commander Tim Neild, said he was extremely proud of the hard work put in by the crew and the US Coast Guard team during this period of high-tempo counter-narcotics operations.
"We have provided most effective counter-narcotics capability during this period, and, when you consider the other roles we have undertaken during our 7-month deployment, Argyll has really showcased the capability and flexibility of a Royal Navy warship", said Commander Neild.