"Doors are open for Aerolíneas whenever they wish" Chile tells Argentina
Saturday, August 31st 2013 - 01:50 UTC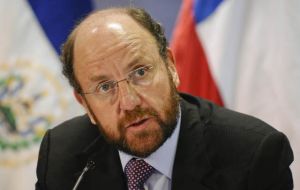 Chilean Foreign minister Alfredo Moreno said that flag carrier Aerolíneas Argentina can access the Chilean domestic market whenever they wish, discarding any impediments or veto to such an option.
"In the case of Aerolineas Argentinas, they have already operated in Chile through Aerolineas del Sur and for business reasons ceased in 2008 voluntarily, but doors remain open if they wish to return", said Moreno adding that domestic flights in Chile are open to all competition.
Moreno was thus replying to statements from Argentine president Cristina Fernandez and her Transport minister Florencio Randazzo who claimed that some countries do not concede the same reciprocity for the operation of companies in air traffic.
The Chilean official then questioned the possibility that Lan Argentina, an affiliate of Lan Chile (49% from Lan and 51% Argentine investors) could face operational problems in Argentina such as the eviction from a hangar in Buenos Aires metropolitan air terminal for which it has a rent contract until 2023 and recently invested five million dollars in refurbishing it.
The conflict which triggered strong political and business reactions in Chile was caused by the latest attempt from Argentine authorities to limit or hinder activities of Lan Argentina, which is now a subsidiary of Latam (a fusion of Lan Chile with Brazil's TAM).
In effect the hangar dispute stopped by a court injunction must be added to the elimination of some of Latam's routes, denying the incorporation of more aircraft, limiting the use of the boarding mechanical tubes thus discriminating Lan passengers and cutting some of the lucrative flights to Sao Paulo and Santiago from Jorge Newbery Aeroparque.
However Aerolíneas Argentina CEO Mariano Recalde considered it was "not that easy" for Argentina's air flag carrier to operate in the Chilean internal flight market and renewed claims for LAN to clear its Jorge Newberry metropolitan airport hangar.
In statements to a local radio station, Recalde explained trade policies in Chile make competition difficult for Aerolíneas Argentinas, thus contradicting LAN's head Ignacio Cueto who had said a domestic flight option was "viable" for Argentina's company.
"If they don't proceed with the extension works (in the Jorge Newberry airport), then they will have to start flying from the Ezeiza (terminal)" Aerolíneas Argentina CEO insisted and questioned this week's injunction that stopped the eviction of the LAN hangar.
Aerolineas as well as Argentina's air terminals regulator are dominated by La Campora, the youth political organization commanded by Maximo Kirchner, son of President Cristina Fernandez and are managed with more political than business criteria.
Latam has become Latinamerica's largest air-carrier and Lan Chile traditionally has been known for its efficiency, good management and profits.
According to Argentine opposition lawmakers based on financial presentations from Argentina's government companies, Aerolineas costs taxpayers two million dollars per day.