Santos orders troops to patrol Bogotá as farm-protest reaches the capital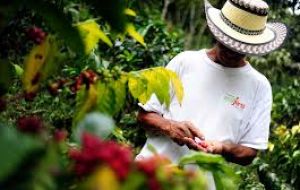 President Juan Manuel Santos ordered troops to patrol Bogota and Colombia's highways on Friday, after violent protests in support of striking farmworkers left two dead.
"Last night, I ordered the militarization of Bogotá and I will do the same today in any municipality or area that needs the presence of our soldiers," he said in a speech broadcast on radio and television.
Santos said he had ordered the deployment of up to 50,000 troops on the nation's highways, which have been targeted with protests and blockages by striking farm-workers since August 19.
Santos said two people were killed on Thursday in Bogotá when demonstrators mounted large marches that ended in violent clashes with police. The demonstrations in Bogotá marked the first time that the farm-workers' rural protests had spread to the capital and other cities.
A spokesman for the Bogotá mayor's office said soldiers would patrol the city "in coordination with the police."
Santos said the military would work with the police nationwide "to help with the mobility of our highways."
The air force was ordered to make its fleet of transport planes available to fly food and other essentials into the capital if necessary, he said.
Farmers, hit by rising costs and competition from imports, are demanding increased agricultural subsidies and other relief. Miners, truck drivers, students and workers have joined the protests, each with their own set of grievances.
On Thursday, Santos acknowledged that farmers have been facing hard times, and promised price controls on fertilizer and pesticides.
But in his speech Friday, the Colombian leader said he had recalled his government's representatives from negotiations that had been underway with protest leaders in the city of Tunja, 150 kilometers from Bogotá.
"We maintain all our willingness to dialogue with the real farm-workers," he said. Organizers of the farm-workers protest said they were taking stock of the situation to decide on next steps.
Over the past 12 days, protesters have blocked traffic on major highways leading to Bogotá, disrupting the flow of foodstuffs to the city. Before the latest deaths, five people had died in a variety of incidents during the road closures.