Unasur embarrassment: Suriname president's son arrested by US on drug and arms trafficking
Saturday, August 31st 2013 - 18:03 UTC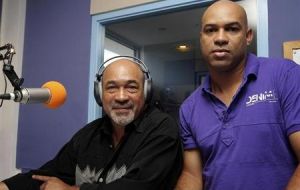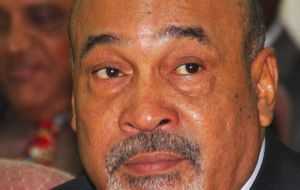 Suriname opposition legislators have called on President Desi Bouterse to resign as well as to clarify the circumstances surrounding the arrest of his son by United States law enforcement authorities in Panama earlier this week.
Members of the main opposition Niewuw Front (NF) wrote to Bouterse asking him to "disclose what Dino Bouterse was doing abroad and why he was travelling on a diplomatic passport" when he was arrested. Opposition legislator Asiskoemar Gajadien has also called for President Bouterse's resignation.
"In any normal democracy the president would step down over such a serious issue", Gajadien told reporters, adding that the arrest is an embarrassment to Suriname given the fact that it has now assumed the chairmanship of the Union for South American Nations, UNASUR.
Bouterse who previously led the former Dutch colony under a military dictatorship, admitted the arrest at the summit for regional leaders being held in Paramaribo, the capital of Suriname. Since becoming independent Suriname has become increasingly linked to Brazil which was very much concerned about drug and arms trafficking to Brazilian gangs.
The Ministry of Foreign Affairs Friday confirmed Dino Bouterse's arrest but that the reason for his detention remained unclear.
"He has been arrested and handed to American Justice Authorities. The cause for his arrest remains unclear," the Ministry said in a statement, adding it was "following developments closely".
In a "Security Notice" released Friday, the United States Embassy here confirmed that "agents from the Department of Justice have arrested the President's son Dino Bouterse on August 29th. Key Surinamese officials have been notified and though we have not received any negative responses from Government, this is undoubtedly a personal issue for the president"
The "Security Notice" said that while no retaliation was expected, staff members should remain vigilant. "Please report any suspicious activities or any harassment, including from any host country officials," it added.
Panamanian authorities say Bouterse was arrested on an international warrant issued by the United States for drug and weapons trafficking, crimes he reportedly committed in the state of Florida.
Bouterse, 40, who was travelling on a diplomatic passport, had been indicted for trafficking 10 kilos of cocaine last July.
This isn't Bouterse's first brush with the law regarding the illegal arms trade. In 2005 he was convicted in a Surinamese court and sentenced to eight years in jail on drugs and arms trafficking charges but was released in 2008 due to good behaviour.
His links with the illegal arms trade had also caught the attention of the US government several years ago. In a Wikileaked cable from then US Ambassador to Guyana, Roland Bullen, he had noted that "Desi Bouterse's son, Dino, organised a Surinamese soccer team's trip to Buxton a few years ago. It is believed that the team bus carried weapons to Buxton."
For many years Buxton had the reputation of being a safe haven for heavily armed gangs in neighbouring Guyana. Shortly after the Bouterse-administration came into office in August 2010, the government established the Counter Terror Unit in which Dino Bouterse allegedly had a prominent position.