Chile replies strongly to CFK: Piñera sold his stake in Lan 'to avoid conflict of interests'
Monday, September 2nd 2013 - 19:54 UTC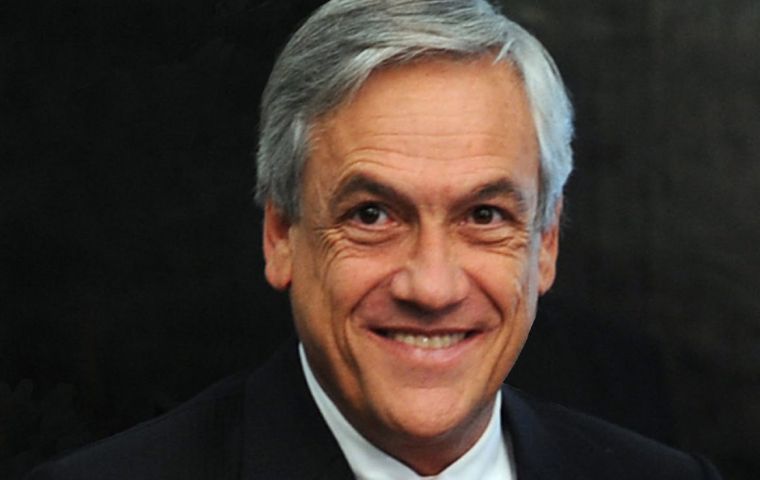 The Chilean government replied strongly to suggestions from Cristina Fernandez referred to President Sebastian Piñera and his personal fortune saying that in Chile 'the president and high officials once elected must abide by rules of transparency" and that is why the president voluntarily agreed to sell his stake in LAN airlines before taking office to avoid a conflict of interests.
Chile's Foreign Minister Alfredo Moreno was on stage on Monday to reply to President Cristina Fernández who on Sunday ironically tweeted: "Can anyone imagine if Aerolíneas Argentinas (Argentina flag carrier) had been my company and when I was elected president I had sold it, instead of being a recovered state airline?"
"In Chile, the president and the lawmakers are democratically elected, with total transparency over their backgrounds, their patrimony and interests," the Foreign Minister said, according to El Mercurio. "Once elected, the president and all high officials must abide by the rules of transparency and present their affidavits," he added.
"The president as all elected officials voluntarily decided to sell all his stakes in several companies to avoid any potential conflict of interest", added Moreno.
Cristina Fernandez on Sunday when flying back from Rio Gallegos to Buenos Aires was back on her twitter, a habit she has picked up when there are controversial issues and added in direct reference to the conflict over Lan Argentina's hangar in Aeroparque "Lan is a another paragraph. Can anyone imagine if Aerolíneas Argentinas had been my company and when I was elected president I had sold it, instead of being a recovered state airline?"
"Mother of God!! Previous to the media shootout I wouldn't have ever made it to candidate. Or maybe yes. After all I'd be one of them. How odd?", added CFK.
But Moreno went on further and said that "nowadays Lan is the property of thousands of Chileans directly and through their pension funds, likewise with Brazilian pension funds. The only thing that interests Chile is that in compliance with legislation of the country it which it operates, there are no arbitrary discriminations regarding Lan or any other Chilean company".
The Argentine airports and air terminals is demanding that Lan Argentina (Lan affiliate) abandons a hangar in Aeroparque for which is has a valid contract until 2023 and where it has invested five million dollars in refurbishing it. From the dispute it has emerged that Aerolineas Argentinas would like Lan not only evicted from the hangar but from Aeroparque and demands 'reciprocity' from Chile to operate domestically, to which Santiago has replied positively.
However Cristina Fernandez also had praise for Piñera who on occasion of the coming fortieth anniversary (11 September) of the Pinochet coup in 1973 recalled that "there were many passive accomplices" with the bloody ousting of ex president Salvador Allende among which "judges which accepted submission and denied appeals that could have saved lives".
"You know what: sooner than later things change everywhere", twitted Cristina Fernandez who also had comments of support for the Brazilian media conglomerate that over the weekend expressed repentance for having supported the military coup of 1964 which lasted until 1985. "Chapeau O Globo" said the Argentine president.
"Yes, believe it or not, in the main editorial of Brazilian newspaper O Globo, one of the largest in the world, it admits as a 'historic mistake' the vast media support given to the military that ruled Brazil during 21 years"
"It also admits that the people protesting in the streets against the newspaper decided it to the "mea culpa". Chapeau O Globo".