Colombia/FARC peace talks at a 'critical' stage says government negotiator
Tuesday, September 3rd 2013 - 23:53 UTC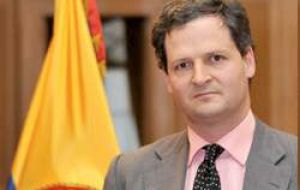 Colombia's peace talks with Marxist FARC rebels have reached a "critical" stage, with discussions over the next couple of months a key gauge of whether an end to five decades of war is likely or not, government negotiator Sergio Jaramillo said on Tuesday.
The government has spent almost 10 months working through a difficult peace agenda in Cuba with representatives of the FARC, or Revolutionary Armed Forces of Colombia. While some progress has been made, talks have been painstakingly slow and most now see the hoped-for year-end deadline as unlikely.
"We are currently in a critical moment of negotiations, I think that in the next months we will know if this is going to work or not because we are beginning on essential issues," Jaramillo, one of the six-man government negotiating team, said during an address in congress.
President Juan Manuel Santos said from the very beginning he did not want the talks to drag on indefinitely, putting a November limit on completion. He has since loosened the target date to year-end or some months later.
Unused to seeing rebel leaders taking centre stage and making televised political statements and demands on the government, Colombians have grown impatient over the last few months at the pace of talks.
Meanwhile, the rebels have continued to kill scores of soldiers and attack economic infrastructure, putting additional pressure on Santos to clinch a deal.
The centre-right president took a huge risk seeking peace after numerous attempts by previous governments ended in failure and bolstered the FARC fighting force. The talks have already dominated his agenda and threaten to overwhelm campaigning for next year's presidential election.
"Let's see how we can accelerate these conversations, time is short, people want peace but demand that we advance more quickly," said Santos during the inauguration of a military hospital in Bogota.
The official agenda includes rebel participation in politics, an end to the conflict, how to eliminate the drug trade, reparations for victims and agrarian reform - on which the two sides have reached partial accord.
But government negotiators have said it could take as long as a decade to implement the accords.