President Santos prepares for the last leg of his four year mandate
Tuesday, September 3rd 2013 - 01:49 UTC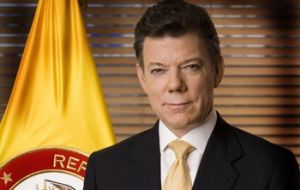 The Colombian ministerial cabinet presented on Monday a protocol resignation to President Juan Manuel Santos so that the leader can make the necessary changes as his administration prepares for the last year of his mandate, according to Palacio Nariño sources.
The protocol resignations include the 16 ministers and all top advisors, all of which are political nominees of free designation and removal by the president.
The presidential palace announced the latest decision from the cabinet in a release in which it also underlines the Ministers Council 'full support' for President Santos.
Following on the protocol resignation, Santos has a free hand to ratify or change any member of his government team when he has less than twelve months to end his four years started on 7 August 2010.
However President Santos has been attacked for his handling of the small farmers' strike which has blocked tens of roads of the country, and despite having reached an agreement with some peasant organizations in some parts of the country, in other parts the strike and blockades persist with food prices soaring in urban areas.
Santos has also been criticized lately for a string of heavy losses suffered by the Army in recent weeks, particularly the killing by FARC rebels of at least thirty military personnel in a border area with Venezuela.
The president is also under pressure from his predecessor in the job, ex-head of state Alvaro Uribe who is point blank against any negotiations with FARC and insists talks with the Marxist rebels funded with narcotics money only debilitates the Colombian state.
All these circumstances could have a negative impact in the event Santtos finally decides to bid for a second consecutive four-year mandate.
Santos is expected to analyze the resignation letters and make decisions which could mean some changes in certain ministries in coming days.