Food, education and healthcare rising prices keep Uruguay's inflation out of target
Wednesday, September 4th 2013 - 00:36 UTC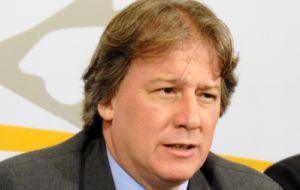 Uruguay's inflation in August kept climbing and reached 1.04%, totalling 6.74% in the first eight months of the year and 8.86% in the last twelve months, which is well above the Central bank target of 4% to 6%, according to the latest report from the local Statistics Office, INE.
A year ago August inflation stood at 0.93%, and 5.39% in the first eight months of 2012 and 7.88% in the previous twelve months.
In August Education, 2.01%; Food and non alcoholic beverage, 1.86%; healthcare 1.53%; Other goods and services, 0.98%, Transport, 0.81%; Leisure, 0.62% and House appliances, 0.74%, were the items with the highest increases.
In the Food and beverage item, Meats, 3.22%; Fresh legumes and vegetables, 2.55% and coffee, tea and other infusions soared 10.06%.
According to INE in the last twelve months, Food jumped 10.6%; Housing, 14.66%; Healthcare, 9.52%; Education, 11.8%; Furniture and house appliances, 8.61%; Restaurants and Hotels, 9.72% and Others goods and services, 8.64%.
Despite a strong performance of the country's economy since 2003, Uruguay has been unable to keep inflation on target in most years because of a monetary expansive policy fuelled by the government's budget deficit currently running above 2% of GDP; consumer credit and rigid labour laws with strong unions.
Since in October 2014 presidential elections are scheduled in Uruguay it's hard to see the ruling coalition taking effective measures to contain spending. Furthermore the current administration of President Jose Mujica has taken advantage of financial markets to extend in time sovereign debt payments, and has sufficient reserves to face "any major volatility".
"Uruguay is prepared to face markets' volatility, which have been forecasted in coming months" given expectations of a Federal Reserve announcement, any moment, that it is ending its stimuli program, said Economy minister Fernando Lorenzo during a banks´ congress on Latam banking and economies.
Lorenzo added that Uruguay has managed to 'reduce macroeconomic risks' and has 'high rates of liquidity' which has given it access to contingent loans that leave aside concerns about debt repayments or expenditure financing.