Labour dispute stops the construction of the St Helena airport in mid-Atlantic
Thursday, September 5th 2013 - 03:23 UTC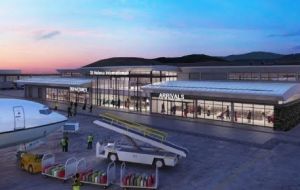 South Africans working at the British Overseas Territory of St Helena airport have gone on strike, in what is thought to be the first industrial action on the island in half a century, according to the local news. It is understood they are in dispute over employment terms and conditions.
The upset appears to relate to the pre-fabricated steel huts built to house workers at Bradley's Camp, close to the airport site on Prosperous Bay Plain. St Helenian workers were not thought to be involved.
Deon de Jager, Island Director for South African contractor Basil Read, said: "We can confirm that the SA Workers has downed tools and are refusing to return to work. We are treating the matter internally according to Basil Read policies and procedures, and have set up a meeting with the committee to hear and address their grievances.
"At this time we cannot comment further as we do not know what these grievances consist of, or what it entails. "We will make an official statement at a later stage"
Janet Lawrence, airport project director for St Helena Government, said: "SHG is aware that discussions are taking place between workers at Bradleys Camp and Basil Read management. All staffing matters are internal to Basil Read."
It is understood that terms of employment for South African workers are different from those of Saints, because they receive only part of their pay on the island, with the rest paid at home. Saints do not need to be housed at Bradley's.
Island businessman and historian Nick Thorpe said it was another example of the visiting workers bringing new influences to the island, where strikes were unknown within living memory.
He said: "There was some industrial action in the early 1960s, incited by Fred Ward's General Workers' Union, but I am not sure it came to anything.
"However, following the end of the Fishers Valley Dam project there was a march of paid-off contract workers who had left their jobs in the flax mill. There was the assumption in those days that a job was for life – I don't think they understood contracts" added Thorpe.
"The South Africans have brought a slice of South Africa with them. Saints can walk away from it all."
The St Helena airport is under construction since early 2012 and is scheduled to open in February 2016, by which time the RMS Saint Helena, the only regular ship to call at St Helena, will be retired.
A total amount of £201.5 million has been funded by the British government for design and construction of the airport which is being carried out by South African engineering group Basil Read (Pty) Ltd. Additional funds of up to £10 million in shared risk contingency, and £35.1 million for ten years of operation by South-African airport operator Lanseria Airport have also been granted by the UK Government.
The airport will be the largest single investment ever made in the island.
Saint Helena has a known history of over 500 years since its recorded discovery by the Portuguese in 1502.
Claiming to be Britain's second oldest colony, it is one of the most isolated islands in the world and was for several centuries of vital strategic importance to ships sailing to Europe from Asia and South Africa. For several centuries, the British used the island as a place of exile, most notably for Napoleon Bonaparte.
Most historical accounts state the island was discovered on 21 May, 1502 by the Galician navigator João da Nova sailing at the service of the Portuguese Crown, on his voyage home from India, and that he named it Santa Helena after Helena of Constantinople.