"The majority of ministers of Piñera's government are all children of Pinochet"
Thursday, September 5th 2013 - 01:36 UTC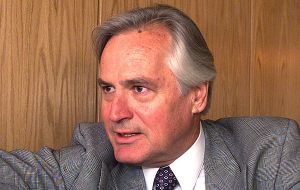 A prominent backer of the 1973 military coup against elected President Salvador Allende said that General Augusto Pinochet betrayed those who supported the putsch out of patriotic sentiments. Roberto Thieme, a founder of the nationalist Homeland and Freedom movement, known as PyL, spoke out a week before the 40th anniversary of Allende's bloody ouster in an interview with Radio Cooperativa.
Besides blasting Pinochet, who died in 2006, Thieme accused members of Chile's incumbent right-wing government of having reaped financial rewards for collaborating with the 1973-1990 dictatorship.
"I see active accomplices (of Pinochet) who were benefited economically," he said.
"Without a doubt, the majority of current ministers of the government of (president) Sebastian Piñera: Andres Chadwick, Cristian Larroulet," Thieme said. "Let's look at the entire list of ministers of this government: they are all children of Pinochet."
The military junta that took power in September 1973 after ejecting Allende - who took his own life as troops stormed the presidential palace - promised to institute a rotating presidency, according to Thieme. But Pinochet broke that promise and ruled as an autocrat, the PyL leader said.
He also complained that while the PyL has been criticized for its support of the coup, other parties have not been held accountable.
Two prominent Christian Democrats, former President Eduardo Frei Montalva and party chairman Patricio Aylwin, both initially endorsed the coup, Thieme insisted.
Frei Montalva, who governed from 1964-1970, was the leader of an incipient opposition to Pinochet at the time of death in 1982 after a routine medical operation. A recent investigation determined that the former head of state was poisoned by agents of the military regime.
Aylwin went on to become president in 1990 after winning Chile's first democratic election in two decades.
Thieme reminded Radio Cooperativa listeners that he formally apologized in 2003 for the PyL's role in Pinochet's rise to power.
"From the first day, I opposed the violations of human rights, this disgraceful and vengeful repression," Thieme said, identifying late right-wing politician Jaime Guzman as the instigator of the abuses.
Guzman, slain in 1991 by leftist militants, was the ideologue of the Pinochet government and founded the UDI party, which is part of the present governing coalition.