Venezuela inflation running at annualized 45.4%; government "admits economic success debt"
Wednesday, September 11th 2013 - 22:06 UTC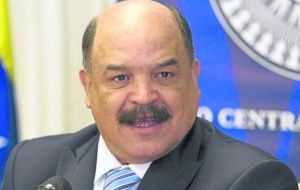 Venezuela's annual inflation rate hit 45.4% in August, the central bank revealed this week, the highest in five years and the highest in the region, even as consumer price increases slowed from the previous month.
President Nicolas Maduro's government has vowed to rein in inflation this year, but officials have indicated that they will revise the year-end target of between 15 and 20% that was set last year.
Inflation slowed to 3% in August, from 3.2% in July and 4.7% in June, thanks to a decline in the cost of housing services, and a slower increase in the price of education and health services, the central bank said. That helped offset acceleration in the prices of home appliances and entertainment services.
Nevertheless the rise is three times last year's rate and far away from the government's target of 14% to 16%. In the first eight months of the year inflation is above 36%.
The annualized rate is Venezuela's highest since 2008, when the government of Maduro's late mentor Hugo Chavez implemented a new methodology for measuring price increases.
The country's nagging product shortages, which have affected goods ranging from newsprint to toilet paper, mineral water, flour, meats and diapers, worsened slightly in August from the previous month. The bank's "shortage index" rose to 20% from 19.4%.
Venezuela's monetary liquidity, the primary measurement of its money supply, has expanded by almost 40% during the last year - leaving a greater volume of the Bolivar currency chasing the same number of goods and services.
Heavy state spending in 2012, which helped Chavez win re-election, then a devaluation of the Bolivar in February, have also worsened inflation.
Government leaders blame inflation on unscrupulous merchants arbitrarily raising prices of staple goods and basic services.
They also say that its impact has, in part, been offset by Chavez-era social programs including subsidized groceries and expanded health care services that have given extra help to the country's poor.
In effect Finance minister Nelson Merentes recently admitted that the 14 years of Chavez and six months of Maduro have experienced a great advance in social policies, but "the main debt remains economic success".
The latest public opinion surveys indicate that scarcity, lack of basic items from the food-basket now stands second only to rampant crime as the main concerns in Venezuela.