Venezuela media running out of newsprint; lack of dollars to import
Wednesday, September 11th 2013 - 22:09 UTC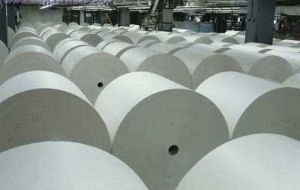 While the world press decries plunging print readership and advertising revenue, newspaper editors in Venezuela are struggling with a much more fundamental problem: lack of newsprint.
Thanks to currency controls and short supply of US dollars, editors and importers are unable to obtain the hard currency required to pay for newsprint manufactured abroad and the government also has a powerful weapon to control dissent.
"I only have enough paper for around 25 days," said Juan Carlos Escare, the editor-in-chief of Mundo Oriental, a newspaper in the central state of Anzoategui. "We're in crisis."
His newspaper covers a small population of about 400,000 people. "If my paper doesn't go out, those people don't have information," he added. "Also, we employ around 85 people. If we can't get paper, we can't publish and we can't pay their wages."
More than half the country's local press is within weeks of going out of print, with at least five newspapers already having gone under, according to numerous editors and industry leaders across the country. It's the latest sign Venezuela's private businesses are still struggling with former President Hugo Chavez's economic policies six months after his death.
"Some newspapers have had to cut their print runs, others only have a few weeks left of paper," said Carlos Correa, president of Open Space, a Caracas-based organization that focuses on human rights and freedom of speech.
Rogelio Diaz, head of the Regional Press Organization, pointed to a downward trend. "Provincial newspapers are going out of print," he said. "Papers that used to contain 32 pages now have 24. Those that used to have 24 pages, now have 16."
Smartphones, tablets and web access are not as ubiquitous as they are in the more developed world, so few newspapers are making a serious jump to the internet or mobile.
Chavez introduced currency controls in 2003 in order to stem capital flight. The government would make dollars available to those who wanted to travel outside the country as well as importers at the official rate. Dollars sell on the black market for six times their "official" value.
However, analysts say, the methods used have proved to be far from sufficient in meeting demand, leading to shortages of everything from chicken to toilet paper.
Importers of newsprint — and other items not produced in Venezuela — must first obtain a certificate of non-domestic production from the Ministry for Commerce. These certificates, according to editors and importers, are being denied.
The certificates, which show that the importer requires dollars in order to bring in a product not produced in Venezuela, must then be given to the government's Commission for the Administration of Currency Exchange (CADIVI), infamous for its bureaucracy and alleged corruption.
CADIVI will then finally provide the hard currency.