Argentina thanks Paraguay for granting General Peron asylum in 1955
Thursday, September 12th 2013 - 01:49 UTC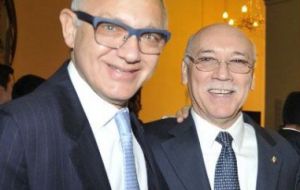 The government of President Cristina Fernandez thanked Paraguay for granting political asylum to Juan Domingo Peron, three times elected president of Argentina, at their embassy in Buenos Aires, when he was ousted by a military coup in September 1955
Argentine foreign minister Hector Timerman and his Paraguayan peer Eladio Loizaga uncovered a plaque at the Paraguayan consulate in Buenos Aires, where the embassy was first located, and which recalls when then Ambassador Juan Manuel Chavez granted Peron asylum.
"Peron not only asked for asylum for himself but to guarantee the lives of thousands of Argentines since there was a threat of a full military attack on civilians in the City of Buenos Aires", said Timerman.
"We will keep consolidating that close link by undertaking jointly with Paraguay projects and activities", added Timerman.
Kirchnerite Senator and former chief of staff Anibal Fernandez made a brief recount of the days before the coup and how Peron finally appealed to the Paraguayan embassy for asylum.
"We continue to work in a transformation that was started by a General from the San Martin army whose name was Juan Domingo Peron, who on that occasion had to step down from government to avoid the streets full of blood from the people", said Senator Fernandez.
"Each time a Latinamerican country is at risk of a coup, all the nations of Latin America will come out to defend the democratic commitment clause which we have signed to ensure that all regional organizations are based on democratic principles", said Senator Daniel Filmus, head of the Foreign Affairs committee in the upper house.
Peron was president from 1946 to 1955 (which includes a re-election in 1951) and then again in 1973 until his death in July 1974. His influence marked a before and an after in modern Argentine history based on strong nationalism, populism and intervention of the government in the economy in a sort of corporative state.
Nevertheless he was a brilliant politician, and the legacy of his catch-all political movement has proven hegemonic in Argentine recent history.