Catalonia human chain demands Madrid a referendum on independence
Thursday, September 12th 2013 - 00:59 UTC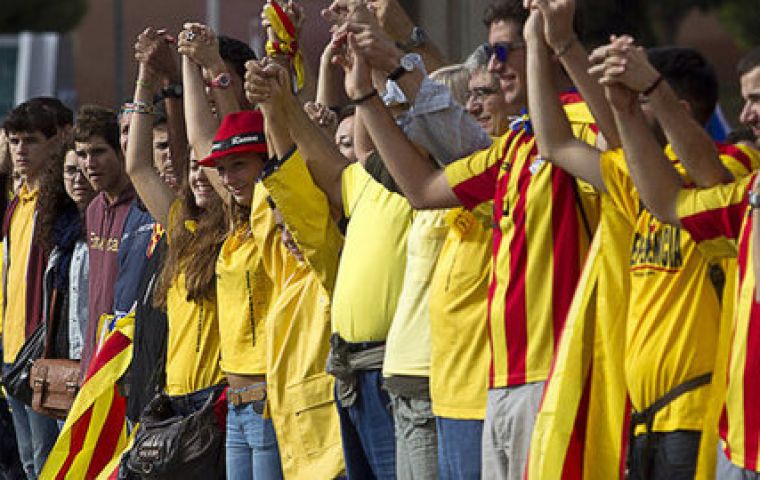 Hundreds of thousands of Catalans held hands in a 400-km human chain across their region to press the Spanish government to let them vote on breaking away and forming their own country.
Demonstrators in yellow T-shirts and draped in blue, red and yellow separatist banners raised their joined hands through cities and along rural roads, jumping and shouting in celebration when the chain was completed.
"We want a referendum to see whether there's majority support for independence. The problem is Spain won't listen. Our only hope ... is that Europe and the rest of the world put pressure on the Spanish government," said Ester Sarramona, a 39-year-old civil servant.
Sarramona, her husband and their children joined the chain in the heart of Barcelona, Catalonia's capital. Like many other Catalans, they said their region was treated unfairly over taxes and cultural issues such as the Catalan language, despite having significant self-governing powers.
A deep recession and cuts in public spending in Catalonia, a wealthy industrial region in the northeast that accounts for a fifth of Spain's economic output, have stirred discontent with the central government in Madrid.
Polls show backing for secession has risen steadily in Catalonia, with some registering support as high as 50%.
Growing separatism in the region of 7.5 million people has become a headache for Spanish Prime Minister Mariano Rajoy, who is mired in a corruption scandal and trying to pull Spain out of recession while pushing through unpopular spending cuts.