Spanish government recommends Repsol 'negotiations' with Argentina over YPF
Thursday, September 12th 2013 - 01:55 UTC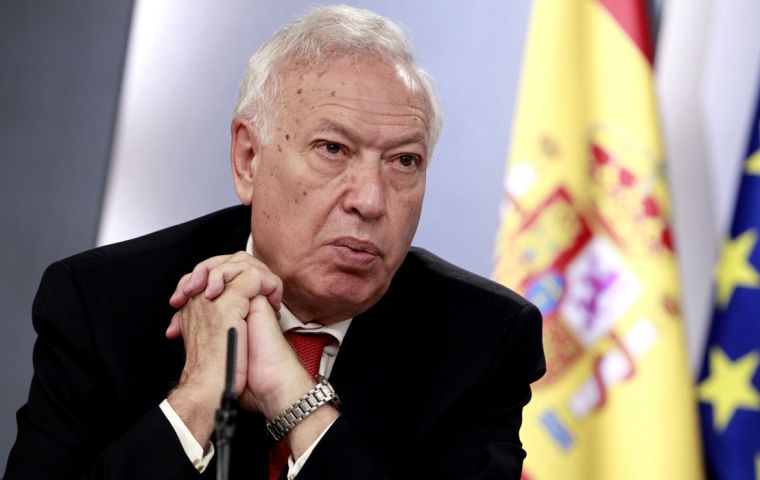 Spanish Foreign minister Jose Manuel Garcia-Margallo said that the 'best solution' for Spain and Argentina on the dispute over the seizure of a majority stake of YPF from Repsol is "negotiations" and emphasized that Madrid will back Spanish corporations in what it 'considers convenient'.
Garcia-Margallo made the statement during the opening of the Spain International Forum which is organized by the New Economy Forum based in Madrid.
However "the Spanish government can't substitute decisions that must be taken inside a company by its management" and it is the corporation that must decide whether "it wants to insist with the negotiation path, wait for better times or simply go to court", pointed out the foreign affairs minister.
"The government is ready to support corporations but not to stand for corporations", added Garcia-Margallo, before adding that the best solution for both countries are 'negotiations' and underlined President Mariano Rajoy administration's support by saying that "the government will back those corporations for what it considers is rightful and convenient".
Garcia-Margallo statement follows an open discrepancy of Mexico Pemex with Repsol strategy of suing firms that partner with YPF. Pemex which is the Mexican state oil monopoly holds a 9% stake in Repsol.
Argentina seized Repsol's majority stake in YPF last year, arguing it had not done enough to invest in output. Since then Repsol has vowed to sue any firm that partners with YPF, to cover losses stemming from the expropriation which it says merits a 10.5 billion dollars reimbursement.
"We do not agree with the official position that Repsol adopted," Pemex board member Fluvio Ruiz said at an event in Buenos Aires.
"States have all the right in the world to decide the public policies that are best for their countries," Ruiz added.
His comments underscore tensions between Repsol and some shareholders as YPF seeks partners in Argentina's massive Vaca Muerta shale oil and gas deposits, one of the biggest unconventional reserves in the Western Hemisphere and an attractive prospect for global firms.
Ruiz confirmed Pemex is talking informally with YPF about participating in the Vaca Muerta venture in the future.