Aerolineas Argentinas admits to annual losses of 250 million dollars
Friday, September 13th 2013 - 02:29 UTC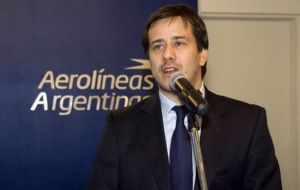 Argentina's flag carrier Aerolíneas Argentinas will have this year an operational deficit of 250 million dollars, approximately 12% of sales, but a sharp decrease from the 640 million loss last year, said CEO Mariano Recalde addressing Senate Budget, Finance, Infrastructure, Housing and Transport committees.
Recalde considered the figure represents an improvement, as it "contrasts with the 850 million dollars deficit in 2011, which was a terrible year for the company." In 2012, the company reported a loss of some 640 million.
Aerolineas CEO appearance before the Senate's committees came amid the Argentine government's ongoing tensions with Chilean airline LAN over its metropolitan airport hangar, but Recalde emphasized that the session was arranged out of his own volition to detail the "evolution of the firm's business plan."
"In recent weeks there has been a lot said about a conflict to which Aerolíneas Argentinas is not a party, because it is between a private company and a government," he said about LAN, adding that "there has been a flood of lies that have been repeated in the media that are nonsense and many Argentines repeat as if they were objective truths."
Recalde refuted comments from Buenos Aires City Mayor Mauricio Macri that the company was operating with a daily deficit of 20 million Pesos arguing that he hopes to reach a "sustainable airline that not even Macri could privatize."
Recalde emphasized that the state had taken over the airline with a negative net worth of "more than US$1,146 million" following "a series of private managements that left it on the edge of bankruptcy."
Flanked by the government's Victory Front (FpV) Senators Miguel Ángel Pichetto and Aníbal Fernández, Recalde described the management of the company as "super-professional."
Pichetto vehemently defended the government stance that the state-owned airline needs to be "flying to non-profitable destinations," but also argued that the Kirchnerite administration's heavy subsidies toward the company were "the only way to own an airline," as it would have disappeared "if we had followed the example of the Spanish," in a direct reference to the Marsans group that ran Aerolíneas until 2008.
"If financing is needed to sustain connectivity until it becomes profitable, so be it," added Pichetto, citing the three weekly flights to Viedma — the capital of Río Negro, the province he represents — as an example of Aerolíneas' progress, noting there used to be only one flight a week there.
The attendance of Recalde was not without controversy and a strong exchange of coarse language with members of the opposition following the release of a video in which the head of Aerolineas during a political rally refers to opposition Senators as a "bunch of parasites" for demanding he presents the financial state of the company and delayed budgets.