Argentina confirms that the Malvinas question has become a Latinamerican strategy issue
Friday, September 13th 2013 - 02:16 UTC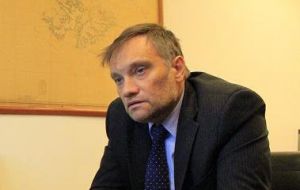 Javier Figueroa head of the Malvinas Desk at the Argentine Foreign ministry said that it is strategic to make the "Malvinas question" a Latinamerican issue. Figueroa made the statement during a meeting of Central America and Caribbean Malvinas Solidarity groups which opened Thursday in Havana.
"The Malvinas issue is one of the priorities of Argentine foreign policy and for us it is most gratifying to see how things are advancing in a most interesting way for our interests", said the Argentine official. He added "there's no international forum or meeting where Argentina does not present this colonial situation".
Figueroa underlined the significance that the Malvinas question has been incorporated to the agendas of regional integration groupings such as CELAC, Community of Latinamerican and Caribbean States, and the Union of South American Nations, Unasur as well as other continental spaces.
"We have left the rhetoric statements and moved to design concrete solidarity positions", said Figueroa and underlined the significance of the Havana meeting since it enables direct contact with the Malvinas solidarity groups in the region 'which are the true expression of the peoples".
The Argentine diplomat revealed that there are an estimated 90 solidarity groups in 80 countries worldwide, with which there is permanent contact to offer information, to meet and to interact.
But the action is not only political-diplomatic, but must also extend to cultural affairs so that the message reaches the very essence of the different peoples, which is complementary to Argentine embassies work, "nobody can better explain an idea that the same citizens from that country".
However Figueroa admitted that one of the toughest issues of the Malvinas question remains the fact that nobody denies it is an anachronic colonial situation and that the only way to resolve it, is sitting round a negotiations table "with no pre-conditions"