Argentina formally requests US Supreme Court to review Appeals court favoring holdout hedge funds
Friday, September 13th 2013 - 20:50 UTC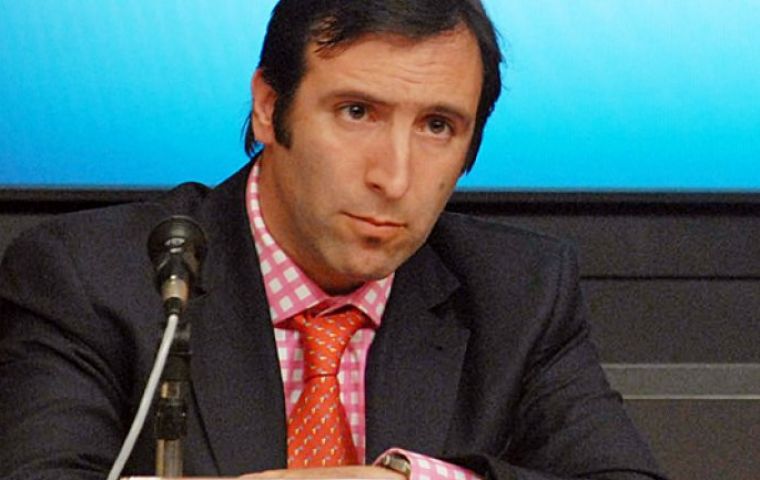 Argentina's legal representation in Washington DC yesterday sent a petition for a writ of certiorari to the United States' Supreme Court, requesting Justices to accept its appeal against the Second Circuit Court of Appeal's ruling in favour of holdout hedge funds, which are demanding full repayment for bonds left unpaid by Argentina's record-breaking 2002 default.
The brief came a day after news that the Supreme Court will decide whether or not to take on the case on September 30. Likewise the Argentine congress Lower House voted late Wednesday 192-33 to approve a third debt swap. The bill had already passed the Senate is now considered law.
If the US Supreme Court decides against taking the case, the New York appeals court ruling would remain firm and Argentina would likely enter into technical default.
Presenting Argentina's budget for 2014, Economy Minister Hernán Lorenzino said on Thursday he hoped to "convince the courts and creditors who did not join the 2005 and 2010 debt swaps (7%) that the only solution (to this conflict) is to go from having 93% to 100% of the debt restructured.
Argentina's lawyers argued that the "decision also warrants this Court's review because of its destructive impact on the nation and people of Argentina, Argentina's 75 billion debt restructuring and the sovereign debt restructuring going forward."
A firm ruling against Argentina could trigger further claims from "'holdout' plaintiffs" for a "total of over 15 billion," the document warns.
Written up by Cleary Gottlieb Steen & Hamilton, the law firm representing Argentina against NML Capital, the holdout hedge fund headed by Paul Singer, the text affirms that "before the Second Circuit's decision, no court had ever suggested that" a "federal court (can) enjoin a foreign sovereign from using, in its own territory, property immune from the process of US courts, unless the sovereign satisfies a monetary claim with equally immune property."
The document proceeds to cover relevant cases setting a precedent for a favourable ruling for Argentina, emphasizing the limitations imposed by the Foreign Sovereign Immunities Act (FSIA) on "US courts' enforcement powers."
Citing the "extraordinary significance to the interests of Argentina, the United States, other foreign states" in a ruling against the former, the text proceeds to cite the support manifest by the US in its "two briefs urging the" New York Appeals' Court to overturn Judge Griesa's lower court ruling ordering Argentina to pay up, which it argues to have been based on a "patently erroneous reading of the boilerplate pari passu clause contained in nearly all sovereign bond contracts."
The petition also points to the amicus curiae filed by France supporting Argentina's position, emphasizing the potential "wider economic harm" at stake.
Furthermore, the text draws attention to the "third parties directly harmed" by the ruling's enforcement, "including participants in the international payment system threatened by their coercive effect, and holders of more than 24 billion in restructured Argentine debt whose unconditional payment rights have been jeopardized."
Repeatedly referring to the plaintiffs, or NML Capital, as "wrong," Argentina's lawyers remind the Supreme Court of its ruling in a case in which it upheld that a US federal court cannot "exercise its 'equitable' powers to compel a foreign sovereign to pay a definite, contract-based monetary claim."
The law firm claims that the "respondents try to further downplay the significance of the unprecedented Injunctions by calling the second question presented — whether a federal court" can force foreign sovereigns to pay such debt — "'a split-less request for error correction."