President Rousseff pushing new legislation forcing internet companies to comply with Brazilian rules
Friday, September 13th 2013 - 00:31 UTC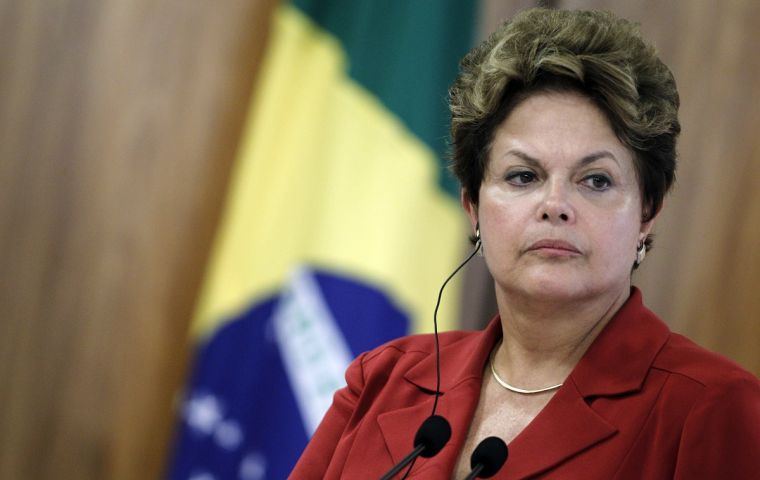 President Dilma Rousseff is pushing new legislation that would seek to force Google, Facebook and other internet companies to store locally gathered data inside Brazil. The requirement would be difficult to execute, technology experts say, given high costs and the global nature of the Internet.
Still, Rousseff's initiative is one of the most tangible signs to date of a backlash following revelations that the US National Security Agency monitored emails, phone calls and other communications abroad.
The legislation, which is being written by a legislator in Rousseff's Workers' Party and is scheduled to be completed next week, would force foreign-based internet companies to maintain data centres inside Brazil that would then be governed by Brazilian privacy laws, officials said.
Internet companies operating in Brazil are currently free to put data centres wherever they like. Facebook Inc, for example, stores its global data in the United States and a new complex in Sweden.
Rousseff believes that the change would help shield Brazilians from further US prying into their activities, and she is considering urging other countries to take similar measures when she speaks at the United Nations General Assembly later this month, a senior Brazilian official said.
"This would be a turning point for these companies," the official said, naming Facebook, Google Inc and Microsoft Corp as examples, although they would not be the only companies affected. "If you want to work here, you will have to obey our rules."
The proposed law comes after a series of media reports based on documents leaked by Edward Snowden, a former NSA contractor who is now in asylum in Russia.
While Brazil is one of several countries named as targets in the documents, the revelations have been especially controversial here because of a long-standing distrust of US spy agencies' activities in Latin America and a report that Rousseff's own communications were compromised.
Alessandro Molon, a legislator in Brazil's house of deputies, was invited to the presidential palace on Tuesday to meet with Rousseff, several ministers and other top aides to discuss the proposed changes.
Molon has been pushing Congress since 2012 to pass a bill known as the "Internet Constitution." The law would establish Brazil's first legal framework for users' rights online, and among other requirements would force social media companies to delete users' data once they close their profiles.
The president asked Molon to add language to the bill regarding data centres, Molon's spokesman Leonardo Santos said. Following the meeting, Rousseff's office filed a motion in Wednesday's edition of the government's official gazette that seeks to force Congress to vote on the bill in the next 45 days.