Spanish scientists discover new marine worm that feeds on whale bones
Monday, September 16th 2013 - 21:57 UTC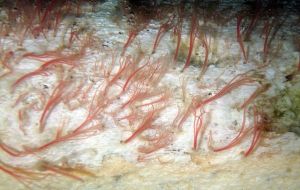 Spanish scientists from the University of Barcelona and the Oceanographic Institute have discovered in Antarctica a new species of worm, a marine invertebrate which feeds on whale bones. The discovery is in the framework of the Actiquim-II project and the new species was baptized "Osedax deceptionensis".
The new species together with the "Osedax Antarcticus" was discovered simultaneously with a team led by the London Natural History Museum and are the first of this type of marine worms found in Antarctica.
Although the discovery took place in 2010 scientists have only made it public in articles published in "Proceedings of the Royal Society B", and in other magazines such as "Nature", "Science" and "National Geographic"
The Actiquim project lead researcher from the Barcelona University, Conxita Avila said that "the interesting thing is that the two species were found in areas quite close, a few kilometres away, but at different depths".
"They are two species adapted to different depths and confirmed by the genetic studies that have been undertaken", said Avila.
The worm that feeds on whales decomposing skeletons was found during the 2010 Antarctic season of Actiquim-II project as a result of an experiment which took place at Deception Island (thus its name) at the heart of Spain's Gabriel de Castilla base operations centre.
From the same experiment the researchers were also able to describe three new species of annelid worms, two "Dorvilleidae" and one "Cirratulidae Osedax". So far only five species of Osedax had been found and described, all of them in warmer latitudes.