Argentina's YPF main partner, Chevron, blasted by Correa who is expected in Buenos Aires
Wednesday, September 18th 2013 - 19:43 UTC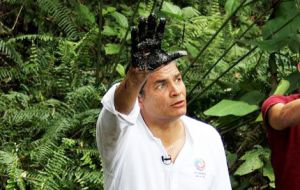 A couple of days before Ecuador's President Rafael Correa is set to arrive in Argentina he sank his right hand into the bushes of the Ecuadorean Amazon and then showed it to the dozens of journalists summoned for the demonstration: it was covered in oil.
Coming shortly after Argentina's oil giant YPF sealed a controversial 1.24-billion dollars shale-focused deal with Chevron that has led to protests in Buenos Aires and Neuquén, Correa's visit raises the spectre that the Ecuadorean president could bring his campaign against the US oil company to Argentina when he attends the opening night of the 25th Inter-American Scouts Conference on Thursday.
It is unclear whether Correa will meet with President Cristina Fernández during what will likely be a brief foray in Buenos Aires. The two presidents have a famously good relationship, but Cristina Fernández might want to avoid being close to the leader who is now leading a global campaign against a company that is now partnering with YPF.
"This is what Chevron-Texaco did. It's Chevron's black hand," the president said while holding up his hand in the Amazon jungle.
He was visiting an area of the Ecuadorean Amazon located 175 kilometres east from Quito, where Texaco operated until 1986. The company was later bought by Chevron in 2001.
With the demonstration, Correa officially launched a campaign against the US company called "Chevron's black hand." He said it will be destined to show "the pollution and environmental destruction that this trans-national company left in our Amazon."
If Correa decides to bring his anti-Chevron battle to Argentina on Thursday it would not be the first time the company's legal woes in Ecuador have an effect on its Argentina operations. This led to last November to an order that a majority of the company's Argentina assets be placed in escrow. The order gave way to a request by Ecuadorian plaintiffs who were seeking enforcement of a 19 billion dollars judgment against the company as part of the decades-old environmental dispute involving Texaco.
Since Chevron has no assets in Ecuador, the plaintiffs are seeking payment by seizing assets in Argentina, Canada and Brazil. And considering that both Ecuador and Argentina are signatories to a treaty, (the Inter-American Convention on Execution of Preventive Measures) that allows preliminary injunctions from one country to be enforced in another, the judge saw the embargo as a clear cut case. An appeals court agreed in January.
On July 4, Argentina's Supreme Court ordered a lifting of the freeze on Chevron's assets. Although recognizing that Argentina has signed a treaty that forces it to enforce preliminary injunctions from another signatory country, the justices said in the ruling that a state can refuse to do so when "they are contrary to the public order."
The justices also agreed with attorney general Alejandra Gils Carbó that Chevron's subsidiaries in Argentina are separate legal entities and were not able to defend themselves in the Ecuador trial.
The July decision was good news for YPF, paving the way for the deal with Chevron that was ultimately sealed on July 16. The deal was approved by the Neuquén provincial legislature on August 28 amid widespread protests by environmental groups who worry about the impact of unconventional drilling and left-leaning organizations that say YPF and CFK administration, was betraying the country's energy sovereignty by granting favourable terms to a US company.
Correa said that his anti-Chevron campaign will be supported by several international celebrities, including Nobel-prize winners and filmmakers, among others, to "remind the world again and again what Chevron-Texaco did to our Amazon."
Correa went as far as to call for a global boycott against Chevron. "Join us in this fight, don't buy Chevron's products and don't use their gas stations," he said.
The Ecuadorean president also said he is not trying to interfere in a case that local villagers started against Chevron. An Ecuadorean court sentenced Chevron to pay more than 19 billion in 2012 for polluting the Ecuadorean Amazon.
Correa added that his campaign's aim is to try to counter what he believes are efforts by the oil company to discredit Ecuador and its judicial system. Among other things, Chevron asked the US government to withdraw some of the commercial advantages that Ecuadorean products enjoy in the US saying that the court's verdict was the result of corruption.
"This is one of the most serious environmental catastrophes in the history of mankind. This is 80 times worse than the British Petroleum spill in the Gulf of Mexico and close to 18 times worse than the Exxon Valdez tragedy near the coast of Alaska but because those damaged are Amazonians, poor people, they expected to go unpunished," he said.
Through a press release, Chevron said that Correa "has decided to interfere one more time in the Chevron case...this time, he took local and international press to walk around the eastern oilfields and provided a distorted story of their history."
The company said that "in 1998 it was completely freed from any future responsibility both by the government and by state oil company Petroecuador" after reaching an agreement by which they "fixed 162 pools and six spill areas." They blamed Petroecuador and the government for the impact that exploration had on the Amazon.