South Georgia looking ahead to a promising cruise and visitors' season
Wednesday, September 18th 2013 - 00:44 UTC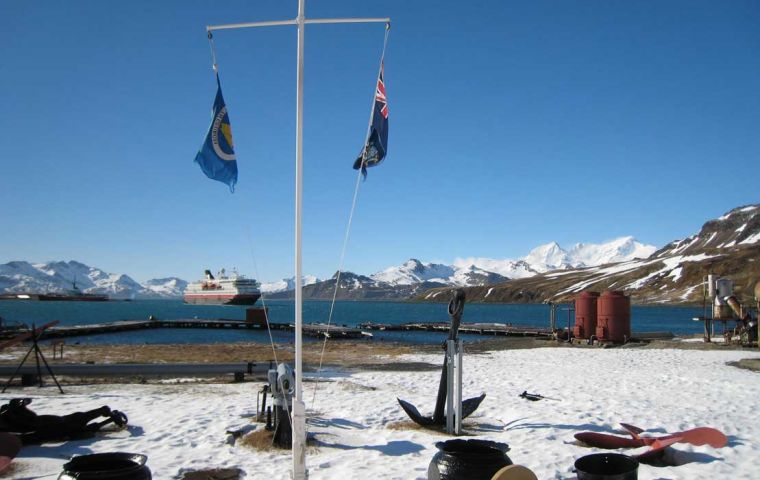 Schedules for the coming tourist season show a significant increase in the number of ships (11%) and visitors planning to visit South Georgia, and a consequent expected increase in tourist numbers (20%), according to the latest South Georgia Newsletter July release.
Cruise ship visits to the Island reduced during the last four years following a downturn in the global economy, and other factors. Tourism to South Georgia reached its height in the 2008/9 season, when 71 cruise ships visited bringing around 8000 passengers; after which it dropped back to 62 cruise ship visits and around 7000 passengers in 2009/10. The last two seasons have seen nearer 50 cruise ship visits and 5,500 passengers.
Looking at the early schedules for the coming 2013/14 summer season, there will be around 58 cruise ship visits to South Georgia, made by 23 different vessels; an 11% increase in ship visits. With normal occupancy levels, the number of cruise ship passengers could be as high as 7000; a 20% increase over last season.
Analysis of last year's tourist data shows there were 5,800 cruise ship passengers, and 610 cruise ship staff. Not many of the crew from these vessels comes ashore. A further 200 arrived on yachts. Overall a total of around 10,500 visitors visited South Georgia when included those arriving on research, military, and other vessels.
Cruise ship passengers came from 57 different countries. The majority of passengers were from English speaking countries (52%); 25% of all passengers came from the USA. Of the rest, Germans made up 20%, UK 11%, and Australia 10%. Following the global tourism trend, the percentage of Chinese visitors is growing (3%) with this increase is expected to continue, with the possibility of an all Chinese charter of one of the larger vessels in the coming season.
Most vessels arrived in South Georgia from the Falkland Islands on a route that takes them from South America via the Falklands to South Georgia, the Antarctic Peninsula and back to South America. When in South Georgia, most vessels landed passengers twice in a day. The most frequently visited locations were: Grytviken/KEP (all ships have to visit Grytviken to clear customs); Salisbury Plain; Stromness; Gold Harbour; and St Andrews Bay.
More yachts visited the Island compared to the previous season; a total of 16 visits by 11 different boats.