Sir James Benjamin Dutton appointed Governor of Gibraltar
Thursday, September 19th 2013 - 19:20 UTC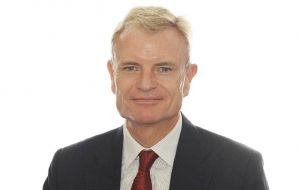 Lieutenant-General Sir James Benjamin Dutton KCB CBE has been appointed Governor of Gibraltar and will take his appointment during next December. Sir James succeeds Vice-Admiral Sir Adrian Johns KCB CBE.
Sir James completed a full career of 37 years in the Royal Marines. His last ten years were dominated by Iraq and Afghanistan, either serving in those countries or dealing with the policy and operational issues from London and Washington DC.
On retirement in 2010 he joined the Bechtel Corporation and has spent the last two and a half years as the Program Director in Gabon in West Africa, latterly as the Director-General of the infrastructure development agency working directly for the Presidency.
On his appointment as Governor of Gibraltar, Sir James has said: "I am delighted and honored to be going to Gibraltar, especially given its historical connections with the Royal Marines. I hope that my many years of military experience combined now with three years of commercial experience will equip me well to deliver the Governor's role and responsibilities toward Gibraltar and the United Kingdom".